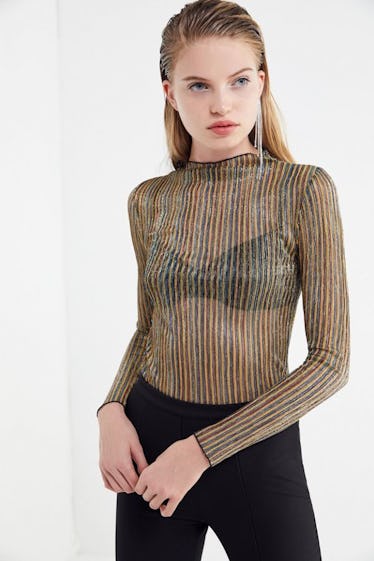 These New Year's Eve Outfits You Can Wear With Jeans Will Keep You Looking Fire In The Cold
Urban Outfitters
While I understand wanting to look good for what's arguably the biggest night out of the year, being cold in the name of glamour has never made sense to me. Style, sexiness, and comfort can most certainly overlap, and these New Year's Eve 2018 outfits with jeans prove it. Pair any of the below top and accessory combo with mom jeans, high rise jeans, black denim—you name it—and a pair of heeled booties and voila, you've got yourself an outfit that can hang with the best of them.
Most of the tops are sparkly in one way or another, while some are sheer and others boast flirty cutouts or silhouettes. The accessories, too, range from the blindingly glitzy to the uniquely cool, so no matter whether you prefer to channel your inner glitterbug or prefer to keep it a slightly more chilled for New Year's Eve, there'll be a combo that you're into. The most important thing is that when paired with a coat and your favorite pair of denim, you won't freeze your a** (or legs) off.
HEART OF GOLD
This is one look that I'd pair with black skinny jeans, black patent booties, and a black faux fur. Whether you're headed to a ritzy lounge or your best friend's house, it's an outfit that'll get compliments but won't be too over the top. Plus, a velvet long sleeved turtleneck equals double the warmth.
TWINKLE, TWINKLE LITTLE STAR
For those of you whose NYE motto is "The more glitter, the better," there's this silver sequined tank top and crystal body chain combo. Wear the body chain underneath the tank top for a super cool vibe, and pair both pieces with low-rise boyfriend jeans. A pair of white patent booties would finish off the to-die-for ice queen look.
RED HOT
Because not everyone wants to stick to a gold/ silver/ black color palette for New Year's Eve! Paired with dramatic crystal earrings, this red satin top feels super luxe and elegant.
ALL CHOKED UP
I love a good choker moment, especially when it also involves a deep V neckline. Thanks to its corset-like stitching and body-hugging form, this top feels ultra sexy but in a subtle way. Paired with A choker literally dripping in crystals and beads, it's the perfect NYE look. Pair it with literally any jeans and stiletto booties and you'll turn major heads.
HEAVY METALS
Here's a look for the hardcore metallic fans! Pair the sheer top with a cute bralette like above and finish off the shimmery look with an even more glittery belt. Rhinestone belts are aughts style at its peak and seeing as all things throwback are in, there's never been a better time to rock one.
THERE'S A TWIST
For something a bit tamer but that still packs a glittery punch, go for this white twisted top (its cutout is key) paired with some crystal drop earrings. It's the perfect look for a chilled out house party when paired with denim, or it can be kicked up a notch with black jeans.
BOHEMIAN DREAM
If you're style is decidedly more boho than Hollywood glam, this tie-up shirt and crystal hair grip are for you.
BLUE FEELINGS
Because full-on glitter isn't relegated to silver or gold, and blue on blue is never a bad idea.
THAT'S TIGHT
A body-hugging tank top boasting a cool neckline and super long crystal earrings make for a festive and so-simple-its-good look.