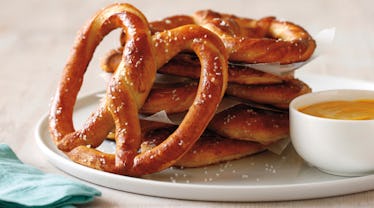 You Can Get Free Soft Pretzels & So Much More With These National Pretzel Day Deals
Courtesy of Auntie Anne's
Pretzels are one of those snacks that never get old to me. It's a versatile snack that comes in a variety of flavors and types. I eat all types of pretzels, but I love a good soft pretzel covered in salt. Preferably with a dipping sauce like spicy brown mustard or beer cheese. If you like pretzels as much as I do, then these National Pretzel Day 2019 deals on April 26 are going to fill you up.
National Pretzel Day may sound like some kind of made up foodie holiday to you, but it was actually championed by former Pennsylvania governor Ed Rendell, according to Penn Live. Since the holiday was officially brought to fruition in 2003, companies around the country have begun to offer special pretzel-related deals to celebrate National Pretzel Day.
Just like in years past, each offer is a little different for 2019. Some promotions come with free pretzels, while other deals require a purchase. But, there aren't any deals here that are going to break the bank. Most of the offers are available at participating stores nationwide, so you can fill up on the cheap. Here's where you can score a delicious snack to celebrate National Pretzel Day on Friday, April 26.