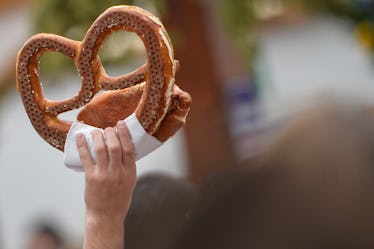 Everywhere You Can Get Free Pretzels Today, In Honor Of National Pretzel Day
Philipp Guelland/Getty Images News/Getty Images
It seems like there's a national proclaimed day for just about every food and drink item out there, and Thursday, April 26 is no exception. Surprise! It's National Pretzel Day, and I am so here for it. The knotted baked-bread product is often associated with baseball games, beer cheese, and shopping malls — but it might even bring you back to your childhood. Whatever the nostalgia might be, I'm here to help you celebrate with the best deals out there. Here is where to get free pretzels on National Pretzel Day.
Soft pretzels date way back to 610 A.D. when Italian monks gifted students the twisted treats, according to History.com. It's safe to say the baked good has come a long way since then. Though, I will say that the pretzel's longevity throughout history is a true testament to just how versatile the soft-baked snack really is.
Today, pretzels come in all shapes, sizes, and flavors. For me, there's nothing quite like a soft baked pretzel coated in tiny specks of sea salt. I'm a fan of dipping the knotted baked bread in mustard, but to each their own. I can't promise all of these deals will score you free pretzels, but you will be able to knock a few bucks or more off of the cost of the twisted treats.