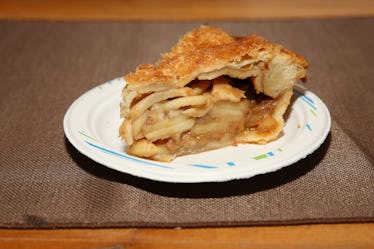 Here's How To Get A Free Slice Of Pie To Celebrate National Pie Day
Monica Schipper/Getty Images Entertainment/Getty Images
As if I needed another reason to stuff my face with sweets, I just found out that Wednesday, Jan. 23 is National Pie Day. I usually associated pies with the holidays. On Thanksgiving, I have pumpkin pie and apple pie. Oh, and you can't forget about pecan pie, either. For Christmas, I usually have a French silk pie or some sort of chocolate cream pie. Alas, the holidays are long gone, but that doesn't mean pie has to be. These National Pie Day 2019 deals will save you big on your next slice.
According to the American Pie Council, people have been making pies dating back to the days of the early Egyptians. The pies weren't filled with cooked apples or spiced pumpkin. Instead, meat pies were a popular choice way back when. Over time, pie has gone under many transformations. The flaky pastry came to the U.S. by way of the first English settlers, who used to bake pies in long, narrow pans. These days, pie is baked in a circular dish and is a popular dessert choice at the dinner table.
I'm a big believer in a slice of warm apple pie served with a tasty scoop of vanilla ice cream, but I'll take whatever pie I can get. If you're on the prowl for a delicious slice, here are a few National Pie Day deals that you can sink your teeth into.