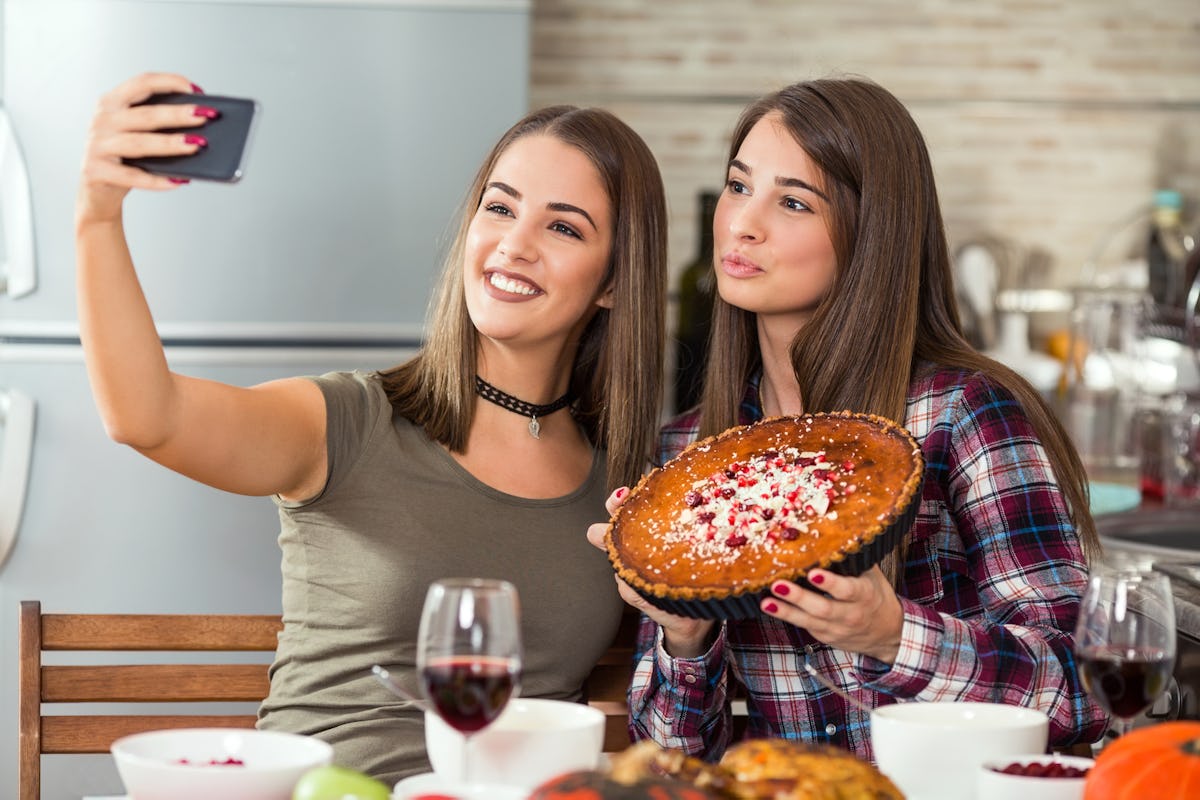 50 Punny Captions About Pie That Are So Sweet, You'll Want A Slice ASAP
Everyone has their favorite Thanksgiving dish they daydream about all month long. For some people, it's the turkey with stuffing, and others are seriously hyped for the mashed potatoes. But as far as I'm concerned, it's not what's on the dinner menu that excites me the most. Oh, no — it's something that ends the feasting on a much sweeter note. I'm talking about the pie, of course. If you're just as much in love with a warm slice of apple or pumpkin pie as I am, you'll want some pie puns for Instagram.
The best part about pie is that there's one out there for everyone. There are sweet pies and even savory ones. You can enjoy something creamy like coconut or key lime, or opt for a classic like caramel apple pie. My personal favorite is my Grandma's chocolate chess pie recipe. I've brought it to every Friendsgiving I've ever attended, and it's always a major hit. If you're like me, you know what it's like to fall in love with pretty much every pie you meet.
Since I know dessert is waiting, I've assembled these 50 pie puns for you to use as captions for your foodie pics before digging in. Imagine these puns as the whipped cream on top of your slice that you can easily add to complete the post. Then, get to digging in faster than you can say, "Can I have another slice?"
1. "You want a piece of me?" — Britney Spears, "Piece of Me"
2. "Slice, slice, baby."
3. "Feast your pies on this."
4. "Pie love you berry much."
5. "I only have pies for you."
6. "Give 'em pumpkin to talk about."
7. "You are the apple of my pie."
8. "You're my sweetie pie."
9. "Piece out."
10. "Pie Felicia."
11. "And world piece."
12. "I have fillings for you."
13. "Love at first bite."
14. "Life of pie."
15. "Pie love spending time with you."
16. "You occu-pie my thoughts."
17. "Have a hap-pie day!"
18. "Hello, pumpkin."
19. "And they lived apple-y ever after."
20. "Look at this gourdgeous pie."
21. "What a cutie pie."
22. "This pumpkin pie is so gourd."
23. "Slice to meet you."
24. "May the slice be with you."
25. "I crust you. You can do it!"
26. "Remember the a la mode."
27. "I'm pie-ning for you."
28. "Pie think I love you."
29. "Come to the nerd side, we have pi."
30. "For goodness bakes."
31. "This pie is squash goals."
32. "You bake me happy."
33. "Bake the world a better place."
34. "Give piece a chance."
35. "Piece on Earth."
36. "Pie comes in piece."
37. "The winner bakes it all."
38. "All you knead is love, and pumpkin pie."
39. "Baked to pie-fection."
40. "Life is what you bake of it."
41. "Drop it like it's hot." — Snoop Dogg, "Drop It Like It's Hot"
42. "Bakers gonna bake."
43. "Pie bakes me happy!"
44. "This pie has whisked me off my feet."
45. "Pie'm all ears."
46. "Well, pie never!"
47. "Beauty is in the pie of the beholder."
48. "It caught my pie."
49. "I've got my pie on you."
50. "Keep your eye on the pies!"