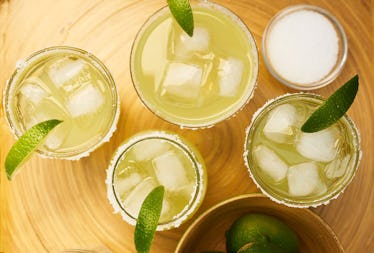 A $1 Top-Shelf Marg Is Among The Many Tasty Deals Available For National Margarita Day
PSA: National Margarita Day is on Friday, Feb. 22. If you haven't already cleared your calendar for lunch or set up a happy hour date with your BFFs, consider this your reminder to make plans. Next up: Where should you go? Lucky for you, there are plenty of great places to celebrate your favorite island-inspired cocktail. I've done the heavy lifting for you and rounded up some of the best offers out there. These National Margarita Day 2019 deals will help you celebrate without breaking the bank.
A margarita is a cocktail that's typically made with tequila, lime juice, and citrus flavors like orange liqueur. I'm not breaking any news here, but this round up includes a variety of twists on the classic margarita. I just want to give the tried and true cocktail the attention it deserves for a minute (although the drink will get plenty of love on Friday).
So, who dreamed up this refreshing, lime-flavored libration? Well, historians can't say for sure, according to National Geographic. Some stories say the drink was first developed by a Mexican restaurant owner in 1938, while others attribute the recipe to a Texas socialite. Honestly, who really knows. I'm just thankful for margaritas.
David Wondrich, who has studied the history of cocktails, said the drink can likely be traced back to the 1930s and 1940s when people liked to mix alcohol, citrus juice, and grenadine together and pour it over ice, per National Geographic. Back then, this adult beverage was known as a "daisy." Eventually, someone had the bright idea to mix tequila, orange liqueur, lime juice, and soda together. And that's a brief history of how the margarita came to be. Now, here are quite a few National Margarita Day deals (thanks to some help from Offers.com) that will have you clinking your glass all day long.