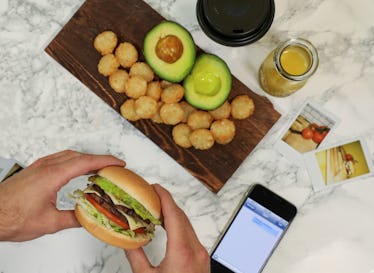 Here's Where To Get Free Guac On July 31 For National Avocado Day
Courtesy of Carl's Jr.
If getting over the mid-week hump in the most millennial-approved fashion sounds right up your alley, you're in luck. ICYMI, Wednesday, July 31 is dedicated to celebrating your love of avocados, so you're going to want to check out these National Avocado Day 2019 deals on July 31 so you can get your guacamole cravings handled without spending your whole paycheck and all your savings on avo toast (as millennials are apparently wont to do). Whether you don't feel like paying extra for guac or you're looking to up your brunch game by scoring a free avocado-filled feast (because let's be real, there's no such thing as too much of the green stuff), there's plenty to tantalize your tastebuds.
When it comes to the full lineup of food holidays, National Avocado Day might be one of the tastiest ones out there. There's just something about the green fruit that's undeniably addicting, and 57% of millennials reportedly say that they could nom on avocado toast at any time of the day, according to a Carl's Jr. survey. Luckily, you don't have to break the bank by doing so, thanks to all the National Avocado Day deals that are here to help you save some dough on the tasty treat.
Keep scrolling to see some of the most guac-ing awesome deals on offer this year, because you're not going to want to pass on these freebies.