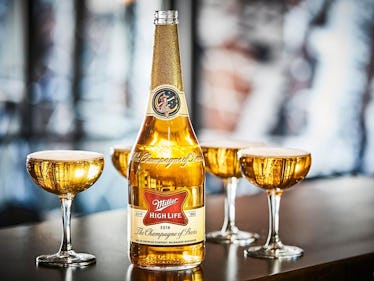 Miller High Life's Champagne Bottles Will Let You Pop Bottles All Season Long
Courtesy of Miller Brewing Company
The holidays are just around the corner, which means it's the perfect time to raise a glass of your favorite domestic brew or pop some bottles in anticipation for the merriest time of the year — or both, if you're all about living the high life. Miller Brewing Company, aka the scientists behind the "champagne of beers," is bringing back a festive 750 milliliter bottle modeled after your favorite bubbly in keeping with the spirit of the holidays, and customers can score these Miller High Life Beer Champagne Bottles for only $3.49. TBH, it's the fanciest and most festive way to enjoy your favorite domestic brew, so cheers to your best holiday parties yet.
As of Wednesday, Nov. 7, shoppers can choose to forego their go-to Miller High Life six-packs in favor of the champagne bottle version for the first time nationwide. Per press materials, Miller High Life beer originally launched in December 30, 1903 as a celebratory brew right before the new year, and the brand is keeping with this tradition (and seriously upping the ante) with the return of these 750 milliliter champagne bottles filled with the light lager that you know and love. These bubbly beauties first launched in 2016 with a limited-edition test release in Chicago, followed by an expansion to Milwaukee the following year, and now they're back by popular demand all across the country.
Each of these bubbly-inspired bottles boasts just over 25 ounces of "effervescent bubbles and easy-drinking" liquid, meaning that you're basically getting over two regular 12 ounce bottles of High Life in one incredibly festive bottle. The best part? They're just $3.49, meaning you're spending less than $5 on sips that are sure to be a hit at any one of your holiday gatherings this year.
While Miller Brewing Company is offering their champagne bottle beers in the spirit of the holidays, I'd start stocking up now if you want to have any to pop open come your New Year's Eve festivities. While there's no end date planned, a rep notes that the Miller High Life Champagne bottles are limited-edition, so they'll only be on shelves while supplies last. According to VinePair, previous years have seen the festive bottles selling out within a matter of weeks, and TBH, it's not surprising at all. When faced with the choice of a regular pack of beers or imbibing your Miller High Life from a champagne bottle, I think the choice is pretty obvious.
If you're not the biggest fan of beer, there are plenty of other festive libations rolling out now to make your holiday parties so lit this year. Not only can you deck your tree with gin-filled Christmas baubles, but you can also enjoy a boozy countdown to Christmas with advent calendars where you can pick your poison, or rather, your spirit of choice. I've totally been eyeing this Wine Lovers' advent calendar, although I'll admit that Drink By The Dram's Tequila advent calendar edition — filled with 12 shots of jolly-making agave — is seriously tempting.
In other words, the holidays are officially coming, y'all, so grab a champagne flute (or beer glass) and toast to the merriest months ahead.