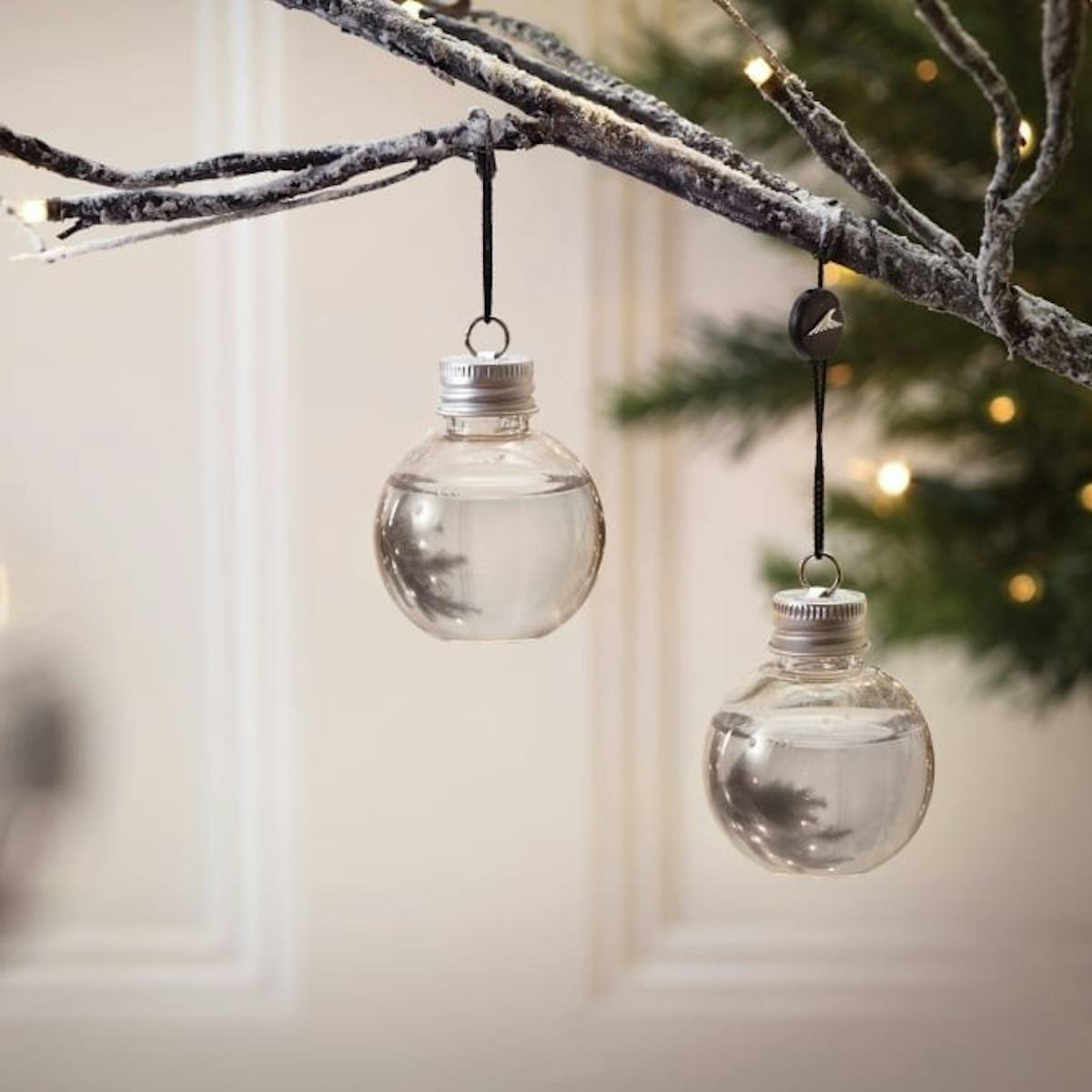 These Boozy Christmas Ornaments Will Make Your Tree So Lit This Year
Whiskyshop.com
Forget the mistletoe, tinsel, and holly, because this year, you're going to want to deck your halls with another merry-making piece of decor: boozy baubes. Lakes Distillery's gin-filled Christmas tree ornaments now exist, and the minimalistic yet elegant pieces are here to make sure that you get into the festive spirit with a round of shots. So, when December comes around, get ready for your holiday gatherings to get so lit, because you're definitely going to want a set (or five) of these libation-heavy trinkets for your Christmas tree.
While it feels like sweater weather just arrived, the purveyors of all things gin over at Lakes Distillery are already thinking ahead to the jolliest time of the year. That means helping appreciators of fine spirits (or anyone who enjoys a nice nightcap, really) live their best lives this Christmas with six gin-infused offerings that you can put on your tree. The British liquor company, which operates out of the Lake District, created a one-of-a-kind gift set with several of its finest gins to taste for about $39.09 (minus shipping and handling).
According to the website, "Each bauble in the pack can be hung directly on your Christmas tree for a little treat throughout the festive season," and in the six-bauble set, tasters can try The Lakes Gin, The Lakes Sloe Gin and The Lakes Damson Gin. Per the description, each ornament can hold 5cl of liquid, or in other terms, about two shots worth of gin, so expect your holiday fêtes to be extra rowdy this year. Whether you choose to purchase the gift set for a one-of-a-kind hostess present or decide to treat yourself with the booziest ornaments of the season, you can't go wrong.
The best part? The chic, minimalistic glass balls can be reused long after the gin is gone to keep the party spirit going. You can simply unscrew the top and re-fill the bauble with your libation of choice, or just leave the empty decorations atop your tree until next year comes around.
If you're in the market for the perfect bites to pair with your festive sips while sitting by the tree and blasting Christmas carols, you can't go wrong with another import from Great Britain: Iceland Luxury's Christmas Tree-Flavored Chips. I'll admit, I was a little skeptical when I first heard about the fir-infused snacks, because what would that even taste like? I'm all for treating my olfactory senses to the unbeatable smell of a Christmas tree, but my taste buds? That's a little questionable.
Well, according to Iceland Luxury, the luxury chips are made using oil from real pine needles for an authentic Christmas flavor, and I wouldn't be surprised if traces of pine nuts (you know, the main ingredient in pesto) make their way in there for a savory surprise. At £1.00 (which translates to $1.30 stateside), it sounds like a total steal for Christmas in a bag, so there's no reason not to pair your Christmas tree nightcap with a handful of festive chips. Forget Halloween and Thanksgiving, because I'm so ready for the merriest time of the year to commence.