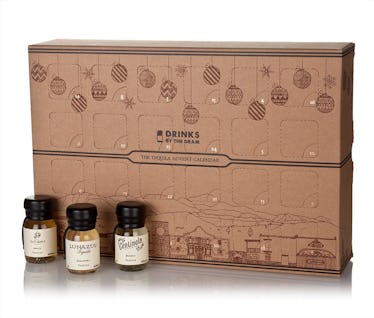 A Boozy Advent Calendar Filled With Tequila Exists, So Grab The Salt & Lime
MASTER OF MALT
Christmas 2018 is already shaping up to be the booziest one of them all, thanks to this year's selection of ornaments, Christmas cards, and advent calendars all paying homage to your drink of choice. If you've been eyeing the Ginvent calendar or even considering going the ultimate boxed wine route with a holiday set of 24 bottles, let me introduce another contender to the lineup: Drinks By The Dram's Tequila Advent Calendar, which is here to help you count down to Christmas with shots of merry-making agave. TBH, it might be the best countdown to Christmas I've seen thus far, so BRB while I go grab some salt and lime.
While it's no secret that tequila is the one libation that people seem to love to hate on, it's also no secret that nine times out of 10, a shot or two of the agave-based liquid is the perfect recipe for the most jolly night out on the town. So when I found out that Drinks by the Dram was offering a holiday advent calendar filled with "24 delightful 30 ml drams of liquid sunshine" on Master of Malt, I had to investigate. If you're unfamiliar with Drinks by the Dram, the company is behind ~ spirited ~ calendars including the $136.11 Ginvent calendar and even a countdown box filled with old and rare whiskeys for $10,893.28 for the most discerning drinker. You know, if you happen to have some spare change lying around. Needless to say, you won't be finding any Jose Cuervo in this mix, and Drinks by the Dram's tequila edition is chock full of fine and limited-edition tequilas, which they list on their website:
Corazon Small Batch Blanco 75cl 40%
Corazon Buffalo Trace Reposado 75cl 40%
Per the website, Drinks by the Dram says you can choose between two different boxes: a traditional craft finish or the company's colorful Christmas-themed edition. Either way, a selection "of the world's tastiest añejo, blanco and reposado expressions" will make their way to your doorstep so that you can make your countdown to Christmas lit AF. With a price tag of $163.35, you might want to consider resisting the urge to rip shots and instead savor the specialty selection, such as the Don Julio 1942 Tequila.
Drinks by the Dram recommends, "Make sure you savor these beauties rather than knock them back in a hurry," because who wants to battle a continuous hangover every day before Christmas?
My favorite part about the whole thing is that on their website, the mixologists behind Drinks by the Dram reveal that every day until Dec. 25 will feel like Christmas morning. Like a traditional advent calendar, you won't know what you're imbibing that day until you open the box and are blessed with that day's surprise libation. In other words, we're all going to have the most lit holiday season this year. My body is definitely not ready, but I can't wait for this tequila feast.