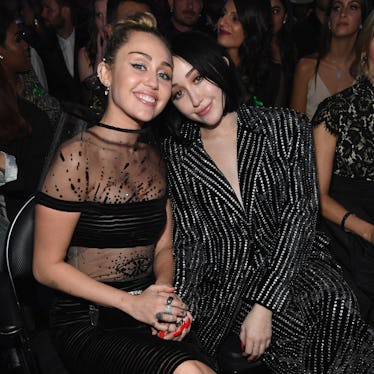 20 Iconic Miley & Noah Sister Moments That Prove They're Always On Each Other's Team
Kevin Mazur/Getty Images Entertainment/Getty Images
It would be tough to name a more iconic duo than Noah and Miley Cyrus. The two sisters are eight years apart, but share so many similarities. They're both talented singers, have a unique style, and grew up with famous parents. Living life in the limelight from an early age only brought the sisters closer together. From birth to present day, they've shared so many sweet memories together. Sometimes they prefer to keep their family life private, but these Miley and Noah Cyrus sister moments are not to be missed.
As with any family, the Cyrus sisters have had their fair share of ups and downs. As Miley told Teen Vogue in June 2017, fame comes with it's own set of struggles, but she's grateful to have a sister who understands what that's like.
"Having someone that really understands how hard it can be when you're away from home for a month, me and my little sister have a new bond over that," she said. "She loves me more now that she knows I do something. She always thought I do nothing and that I went to put two wigs on," she added, referencing her Hannah Montana days.
Noah has also spoken out what it's like being part of such a famous family, admitting that she sometimes found it difficult living in her sister's shadow. "Being born in the family I was in, everybody gave me such a hard time for having a hard time being Miley's little sister," she said during a live video.
She even released a song about it titled "Young and Sad," however, these days the two sisters are the best of friends and there's nothing sad about their relationship at all.