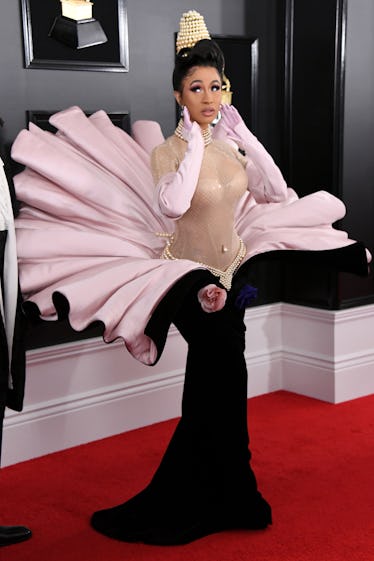 Cardi B's Grammys Dress Worked Hard, But These Memes Work Harder
Jon Kopaloff/Getty Images Entertainment/Getty Images
Red carpet style is always subject to being turned into memes, and rightfully so. From Rihanna's pizza dress to Priyanka Chopra's trench coat dress (Google them!), outrageous looks make for excellent comical fuel. And after seeing the memes about Cardi B's 2019 Grammys Dress, which have set Twitter on absolute fire tonight following the rapper's walk down the red carpet, I think you'll agree.
Cardi is up for a whopping five Grammys tonight, so you know she had to bring the sartorial drama. She's been nominated for Best Album (basically the biggest award of the evening), Best Record, Best Rap Album, Best Pop Duo/ Group Performance, and Best Rap Performance, so it's safe to say she's got an exciting night ahead of her. Seeing as Cardi is the opposite of a snooze-fest in terms of her red carpet style, it was somewhat expected that she'd arrive to the event wearing something playful, but nothing could have prepared me for the gown (read: sculptural creation?) that she ended up rocking.
The bottom half of the dress is relatively normal, with a mermaid-style skirt and rose attached at one hip. But once we move up and hit the garment's waistline, things get crazy with a capital C from there. The dress blooms out into a fan of huge ruffles, shaped not unlike a male peacock's tail feathers, and surrounding Cardi in waves of soft pink. The bodice of the outfit is made from a sheer pearlescent material that has a similar appearance to mermaid scales, while strands of pearls encircle Cardi's waist, neck, and topknot. Pink gloves and pink eyeshadow finish off the dramatic look, which could be interpreted to resemble... so many things. A beehive? One big pearl? A mountain of fancy chocolates? Really, who knows.
My first thought was that Cardi looks like a very modern IRL depiction of Sandro Botticelli's famous painting, The Birth Of Venus. Users on Twitter seem to agree, posting side-by-side comparisons of Cardi and the Roman goddess.
One user simply thought Cardi B looked like the sartorial interpretation of an oyster, which I can honestly see in light of all the pearls involved in her look.
A Disney fan compared Cardi's dress to The Little Mermaid's Ursula, which, while I think the rapper is the opposite of evil, I can see how the fan effect of her gown might resemble Ursula's tentacles... maybe?
@hobiscob, however, did not get aquatic vibes, instead comparing Cardi's dress to none other than a coffee filter. One look at it will wake you up just about as much as one cup of joe will, so sure, we'll give it to you!
My personal favorite meme has got to be the one that actually doesn't focus on Cardi's dress, but rather zones in on the veritable mountain of pearls on her head. "Cardi B rocking them Ferrero Rochers #GRAMMYs," wrote @skyerenaee1. I mean, both are rich AF.
Don't you just love the internet sometimes?