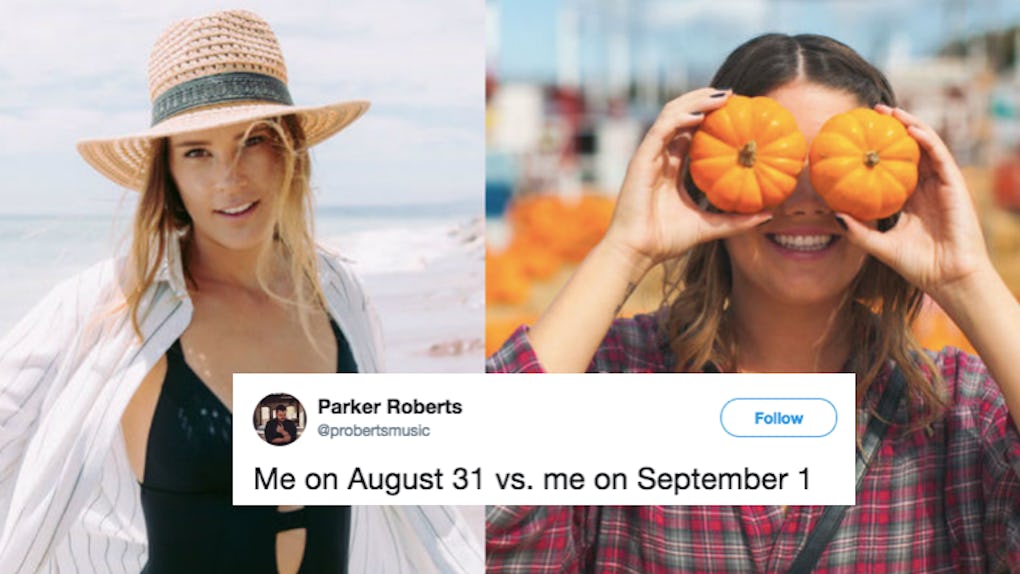 RZ Creative/Stocksy
These "Me On August 31 Vs. September 1" Memes Are So Relatable If Fall Is Your Fave
I really hate to say it, but at this point, I'm a little bit desperate for fall to arrive. After far too many hot, sweaty, and unbearably humid days to count, summer is almost over, at long last. The best part about summer nearing its end, however, is that it's finally time to ring in the cool weather, adorable chunky sweaters, chic boots, and pumpkin spice everything, obviously. The bottom line of it all is that I'm basically an entirely new person in autumn, and if you, too, can relate, these "Me on August 31 versus September 1" memes will most likely speak to you on an entirely different (and hopefully kind of spooky) level.
OK, it's probably like this in most places outside of, like, Florida, but New York City residents literally tend to transform when autumn hits. Maybe it's due to the very welcome change in temperature. or maybe it could be because fall food is so freakin' irresistible (hello, apple everything). It might also be related to the fact that it's once again time to pull out darker hues from your wardrobe, and let's face it: many fall-lovers love wearing black, and black only. Anyway, there are tons of Twitter users out there who are posting memes about the seasonal transition right now, which show that their life was falling apart in the heat of August, and it underwent a major glow-up in September. Make sure to check them out below, because they're honestly so funny.
On the other hand, it seems as though a number of people in the Twittersphere feel that the change simply affects their clothing choices. Maybe the transition isn't affecting their mood, but it's definitely changing their aesthetic, and in the end, that's kind of all that really matters, right?
Others hangin' in the Twittersphere, however, feel like there's no literally no difference between their summer and fall selves. Honestly, I don't know how that is, because the glow-up is so real for me, but some say it's because they're sweating all the time, while others believe it might be due to the fact they're feeling spooky 24 hours a day, seven days a week. Who really knows?
OK, fall technically doesn't begin until the fall equinox, which lands on Saturday, Sept. 22 this year, but that doesn't mean that you can't get excited about September — the month that fall begins — finally arriving. I mean, pumpkin spice has been taking over coffee orders and grocery store shelves since mid-August. Heck, even the famed Starbucks Pumpkin Spice Latte made its debut earlier than ever on Tuesday, Aug. 28.
Really, it's not too surprising that people are amped AF about the calendar finally turning to the month of the fall equinox. Summer is fun with its sunny days and rosé pool parties, but it looks like people are ready to trade in their beach towels for cozy blankets to keep them warm in the fall.