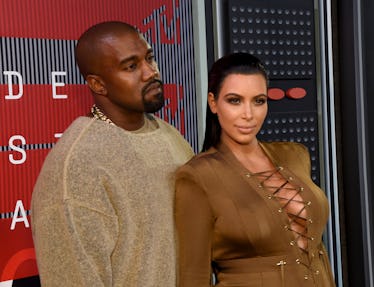 Here Are All The Times Kanye West Raps About Kim Kardashian On 'Ye'
Larry Busacca/Getty Images Entertainment/Getty Images
Kanye West has finally released his much-anticipated album Ye and, to no one's surprise, the songs are full of some subtle and not-so-subtle references to his wife, Kim Kardashian West. Seeing as they're the celeb couple I can't help but obsess over, I'm not complaining about these little Easter eggs. These lyrics about Kim Kardashian on Ye will definitely have you replaying songs to memorize every possible remark.
On May 31, West hosted a listening party for the album in Wyoming, while fans joined in on the celebration via a livestream. Certain aspects of the project were apparently handled at the last minute, as Kardashian West shared on Twitter that her husband shot Ye's album cover on his way to the listening party. Well, I guess some of us are destined to always be the kid finishing homework right before the first bell.
Kardashian West was also in attendance at the listening party, and references to her are scattered throughout Ye's track list. While West addressed cheating rumors about Khloé Kardashian's boyfriend Tristan Thompson on the album, Kardashian West's role in his life was clear in the new rap "Wouldn't Leave."
The track captures the star's recent controversy in which West called slavery "a choice" in a May interview with TMZ. The comment followed an erratic Twitter rant from West, who caused a stir when he announced support for President Donald Trump on his account. He raps:
They say, "build your own," I said, "How, Sway?" / I said, "Slavery a choice." They say, "How, Ye?" / Just imagine if they caught me on a wild day / Now I'm on fifty blogs gettin' fifty calls / My wife callin', screamin', say, "we 'bout to lose it all!" / Had to calm her down 'cause she couldn't breathe / Told her she could leave me now / But she wouldn't leave
As any fans of Keeping Up with the Kardashians know, middle sister Kim isn't always the calmest when chaos strikes. If West's lyrics are true to life, it sounds like she freaked about his public comments, but stood by West's side nonetheless. Say what you like about these two, but you have to admire their loyalty to each other.
The end of "Wouldn't Leave" also seems to thank Kardashian West and women like her directly, saying:
For every damn female that stuck with they dude / Through the best times, through the worst times / This for you
West is a low-key romantic, right?
The allusions to Kim in "All Mine" are less specific, but they sound certain to me. In the chorus, featured performer Valee raps:
Yeah, you supermodel thick / Damn, that ass bustin' out the bottom
The track "Yikes" also uses "my wife" in lyrics, with West rapping:
I still bring the bad b*tches in the city out / Uh, just a different type of leader / We could be in North Korea, I could smoke with Wiz Khalifa / Uh, told my wife I've never seen her / After I hit it, bye Felicia, that's the way that I'ma leave it
As someone not too familiar with Kanye-isms, I think it's a little trickier to crack the code behind this shout-out, but a Genius annotation contributor suggests that it's a reference to just how different West is from your typical rapper. If he wanted to, he could cheat on Kardashian West as easily as he could go to North Korea. Well... OK.
While none of the album's other songs include obvious references to the feminine half of this power couple, West does offer a glimpse into their family life in "Violent Crimes," rapping about how having daughters changed him. Such an intimate message only adds to West's extremely personal album and, days before Ye's release, he assured us that Kardashian West is still his go-to gal.
Aw, look at how far these two crazy kids have come. Congrats to West for releasing an album that shares so much of himself with fans.
Ye is now available on Spotify and Apple Music.