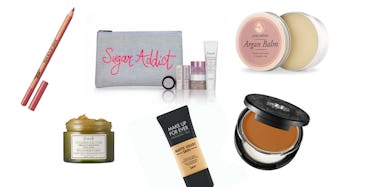 These Beauty Sales For Labor Day 2018 Will Make Your Long Weekend Extra Sweet
Fresh/Make Up For Ever/Kat Von D/Josie Maran Cosmetics
Can you believe that summer is nearly over? Starting on Sept. 22, fall officially begins, which means it will be time to kiss the nice warm weather, beach days, and tank tops goodbye until next year. But the good news is that 2018 Labor Day beauty sales are here to help you stock up on your favorite products before the colder months start to creep in. So you'll be fully prepared to start hibernating once winter rolls around.
Major cult favorites like Kat Von D, Make Up For Ever, and Fresh, along with Josie Maran Cosmetics, bareMinerals, and more will all be gearing up to give customers the best deals they can offer for Labor Day. So whether you're looking for new skincare essentials to keep your summer glow going, or new makeup products to start planning out your holiday party looks, these sales will offer you pretty much everything you need to get your beauty drawer ready for your post-summer routine.
bareMinerals
Long-time clean beauty brand bareMinerals will be offering a few discounts to customers who spend $75 or more at bareminerals.com. According to the brand, from Aug. 30 until Sept. 3, the retailer will give $20 off to shoppers who spend $75, while those who are willing to fork over $100 or more are eligible for $30 off. So depending on what you purchase, this deal is almost like getting one product for free! Now, let's take a look at a few products you may want to scoop up during the sale.
Since many of us tend to get slightly paler in the winter, it's always nice to have a bronzer on hand to give you a nice year-round glow. This ultra-fine baked bronzer will do just that, and it's available in four shades to work with fair to medium, tan, and deep tones.
I don't know about you, but in the winter time, I tend to look extra tired since the sun takes a little longer to rise. So using an eye cream in the morning is an essential for me during this time of year. Thankfully, this formula includes Lempuyang ginger extract to help brighten the skin so you'll look more awake.
Since winter air tends to be dry, it's important to exfoliate and moisturize to keep your skin looking fresh — and this duo mask does just that. While the Be Bright mask removes dead skin cells to reveal brighter, glowing skin, Be Firm works to keep the skin plump and moisturized, leaving your face looking lifted and firm.
Josie Maran Cosmetics
Fellow clean beauty brand Josie Maran Cosmetics will be having a 15 percent off sale online for Labor Day when customers use code "SAVE15" at the checkout, starting on Aug. 28 until Sept. 3. Shoppers can also enjoy free shipping during this time! So what should you get if you're a fan of Josie Maran products? Let's take a look and see.
If you're familiar with Josie Maran products, then you likely already know a large portion of the line includes argan oil, which can be very nourishing for the skin. But what's cool about this self-tanner, other than it giving you a nice, warm glow year-round, is, instead of choosing between hues, you choose between scents! Pick from Juicy Mango, Peach Rose, Vanilla Caramel, or French Vanilla — delicious!
Use this balm wherever you feel your skin needs a little extra love — whether it be on the heels of your feet, cuticles, or on chapped lips. And with nearly 120 reviews on the Josie Maran website alone, this product has a perfect 5-star rating, so you definitely can't go wrong with this purchase.
If you're someone who deals with dry skin in the winter, then the Pure Argan Milk Intensive Hydrating Treatment may just be your saving grace. This fast-absorbing formula works to hydrate using purified water and micro-droplets of argan oil, leaving your skin feeling soft, refreshed, and nourished.
Fresh
From Aug. 24 until Sept 3. if you spend $100 or more online, use the code "LABORDAY" at checkout to get a free Fresh Sugar Addict seven-piece gift set, which includes deluxe samples of the brand's Soy Face Cleanser, Rose Deep Hydration Face Cream, Lotus Youth Preserve Rescue Mask, Black Tea Age-Delay Eye Concentrate, Mini Sugar Rose Tinted Lip Treatment Sunscreen SPF 15, and Mini Sugar Lip Treatment Advanced Therapy. Seriously, does it get any better than this?
Now, since the gift set includes most of the brand's essentials, here are a few recommended products that you should think about scooping up so you can get it!
This gentle mask, which features a vitamin-rich fruit complex, gently works to exfoliate and remove dead skin cells to reveal a glorious glow that will last all winter long.
If you're currently living in a big city, the truth is that the pollution is likely affecting your skin. Thankfully, this essence will not only protect your skin from the elements, but also provide 24 hours of moisture to keep your face looking luminous.
This magical toner is not only Jackie Aina's go-to, but it's also one of Allure's choices for Best of Beauty in 2017. And since in-vivo test proved that 100 percent of users said it "helped clear pollution particles and residual impurities," while another 97 percent claimed it made their skin feel soft and refreshed, it's easy to see why.
Make Up For Ever
Make Up For Ever will be offering customers 15 percent off their purchase when they spend $75 or more either online or in any of their boutiques across the U.S, using the code "DAYOFF." The sale will start on Aug. 29 and last through Sept. 3, so it's definitely time to get your money in order to get in on this great deal if you're looking to stock up on some quality makeup. Here are some amazing products for your consideration.
Available in 40 shades, this matte foundation is an essential for anyone with oily skin who's looking to find their perfect match.
Coming in 39 different colors, this handy dandy pencil, which can be used not only on eyes, but on lips and brows as well, is sure to become a staple in your makeup bag.
This highly pigmented lipstick comes in a total of 15 shades that can match anyone's mood.
Kat Von D
Last, but certainly not least, beginning on Aug. 30 until Sept. 3, cult beauty favorite Kat Von D will be offering two amazing online deals in honor of its Labor Day sale. The first will be a free travel gift set with any purchase over $75, which will include a mini Tattoo Liner in Trooper Black, a mini Studded Kiss Crème Lipstick in Lovecraft, and compact mirror, all in a vegan leather makeup bag. The second is major discounts on some of Kat Von D's most popular products. Let's take a look at a few of them right now!
While I do wish the shade range for this product was more extensive, those who have found their match swear by this foundation. With a buildable formula, the powder is able to achieve full coverage, all while giving you a shine-free matte finish.
If you're a contouring addict, then this palette with a buildable formula may be just what your makeup kit is missing. The best part? It's refillable, so you won't have to purchase an entire new palette every time your favorite shade runs out.
Take your contouring to the next level with this high-performance brush. Featuring perfectly tapered bristles, this product is perfect for both applying and blending crème contour.
But these products won't be the only items featured in the sale. Select shades of Everlasting Lip Liner (original $18; sale $13, Kat Von D Beauty), Everlasting Glimmer Veil Liquid Lipstick (original $22; sale $15, Kat Von D Beauty), and Studded Kiss Crème Lipstick (original $19; sale $13, Kat Von D Beauty) will also be discounted during this time as well.