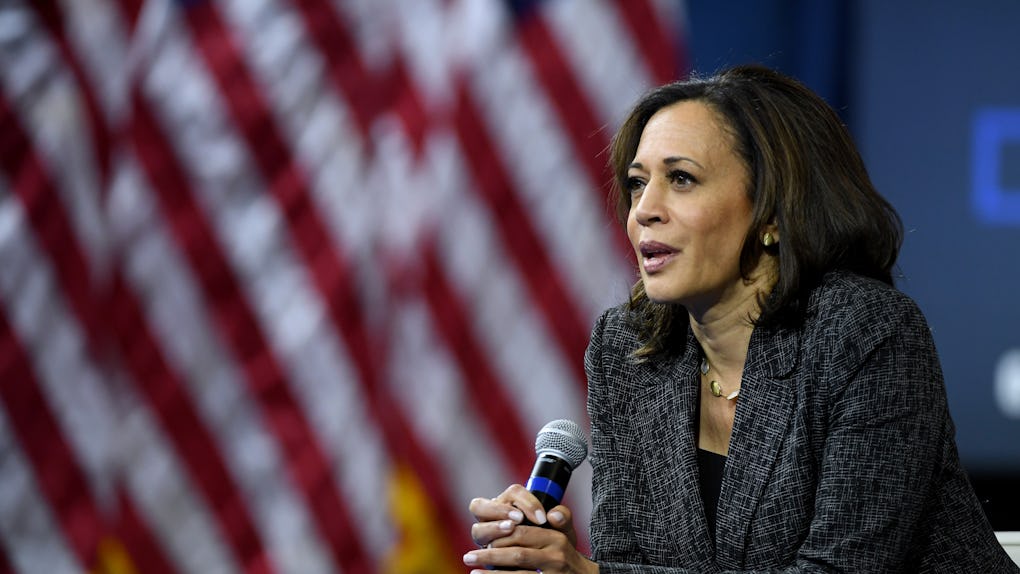 Ethan Miller/Getty Images News/Getty Images
These Kamala Harris Halloween 2019 Costume Ideas Will Have You Reaching For A Cocktail
It's officially Halloween season again, and you know what that means — lots of candy and days spent agonizing over how to win your neighborhood costume contest. If you're stuck and don't know what you should be this year, we've got some suggestions for you! These Kamala Harris Halloween 2019 costume ideas are as funny as they are ingenious, especially heading into the 2020 presidential election.
Whether you want to dress up as a senator for Halloween, or pay homage to Maya Rudolph's already-iconic interpretation of Harris, we've got some great ideas for you. With a blazer and some Converse sneakers, you could be well on your way to playing the part of California's junior senator. (Just make sure you're being appropriate and sensitive; blackface and racism are not acceptable costume ideas for any reason.)
There's nothing wrong with your usual ghost or vampire costume this spooky season, but as young people become more politically engaged, you may be interested in expressing some political thoughts through your costume. There are some fantastic political Halloween costumes out there, from this take on Maxine Waters to the Bill from Schoolhouse Rock. And if you want to take your lead from this little girl who dressed up as Harris in 2017, you'll have no problems getting people to guess what your costume is. Without further ado, here are a few ideas to get you started.
Kamala's Kocktail
On Sept. 28, Saturday Night Live premiered its 45th season with a mock Democratic town hall, and SNL alum Rudolph took the stage as Harris. Mimicking Harris' classic blazer look, Rudolph roasted Harris' history as a prosecutor to describe herself as America's fun aunt, or a "funt," as she put it. "The kind of 'funt' that will give you weed, but then arrest you for having weed," Rudolph joked.
During the mock town hall, Rudolph delivered several punchy one-liners. Then, at one moment that has since gone viral, Rudolph's Harris responded to a question about Joe Biden being involved in the Ukraine whistleblower scandal by donning a pair of sunglasses and sipping on a frozen cocktail.
"Oh no," Rudolph's Harris said. "That would be terrible."
Did you love Rudolph's performance as much as Harris herself did? Then grab a blazer, some sunglasses, and a frozen drink, practice some witty remarks about Biden and impeachment, and you'll be ready to go. Bring along a friend dressed as Biden for bonus points.
For the final touch, pop one of these little cocktail umbrellas in whatever drink you have in your hand:
Kamala On The Road With Converse
When Harris isn't at debates or other formal events, she swaps out her pantsuits and pumps for more casual looks with Converse kicks. According to Refinery29, Harris almost exclusively wears Converse when she's on the road. She told The Cut last year that she has Converse shoes for every occasion:
I run through airports in my Converse sneakers. I have a whole collection of Chuck Taylors: a black leather pair, a white pair, I have the kind that don't lace, the kind that do lace, the kind I wear in the hot weather, the kind I wear in the cold weather, and the platform kind for when I'm wearing a pantsuit.
If you want to get things done like Harris does, grab a blazer of any color, pair it with some black pants, and lace up your Converse shoes this Halloween.
"That Girl Was Me"
It may be early in the campaign, but Harris has had some viral moment that you can riff on, too. During the June 27 Democratic debate, Harris confronted Biden on the subject of race and segregation. She primarily attacked Biden's record on busing, a method of desegregating schools, by explaining how it had benefited her. "There was a little girl in California who was part of the second class to integrate her public schools, and she was bused to school every day, and that little girl was me," Harris said during that debate.
The line became the subject of numerous tweets following the debate, and Harris' campaign started selling "That Little Girl Was Me" T-shirts with a photo of a young Harris on them. Harris herself seems to have enjoyed the jokes, too. In the months since then, Harris seemed to adopt "that little girl was me" as an unofficial motto, and after the SNL premiere aired, Harris responded to Rudolph's performance with a reference to the line.
"Now Erin, that little girl you just introduced, that little girl was me," Rudolph said after being introduced in the mock town hall.
"That girl being played by Maya Rudolph on SNL?" Harris replied in a Sept. 29 tweet. "That girl was me."
If you want a creative take on a Kamala Harris costume, consider adopting a classic Harris look — complete with a blazer, necklace, and Converse — and assembling some different paper masks of famous people. Think Abraham Lincoln, Julie Andrews, Oprah, or any other well-known or silly cultural figures. Take these masks with you to any Halloween party, and swap them out in the middle of conversations. Say "that girl was me" in solemn tones, and continue the conversation as if nothing happened. Just be sure to keep it all in good fun, and be careful to not appropriate Harris' experience or mock her original comments.
After all, Halloween is a time to be imaginative, so think about what Harris would do, and you'll have a great costume in no time.