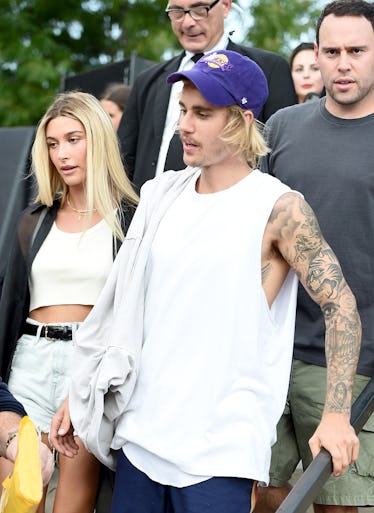 4 Justin Bieber & Hailey Baldwin Costume Ideas To Make Your Halloween Romantic AF
Theo Wargo/Getty Images Entertainment/Getty Images
Justin Bieber and Hailey Baldwin have made countless headlines with their whirlwind romance-turned-engagement-turned nuptials over the past year-and-a-half. Now, they're about to give your Halloween costume ideas a huge boost, as well. The lovely couple sported a number of cool couple looks while out and about, so there's bound to be something interesting to choose from if you're looking to the young couple for Halloween inspiration. Given that they've made numerous appearances together in recent days, I've compiled a list of Justin Bieber and Hailey Baldwin costume ideas for you to consider.
Here are all the best ones that'll make you look exactly like them at a fraction of the cost.
1. Engagement Bliss
When Bieber announced his and Baldwin's engagement on Instagram back in July 2018, he made sure everyone knew how he was feeling about this new chapter of his life. He also included a really sweet photo of the two of them. While they're dressed very casually, they look amazing nonetheless. And the now-iconic photo is perfect for a romantic costume idea, especially if you're newly engaged!
The iconic engagement look is pretty simple to achieve. For Baldwin's look, you can head to Forever 21 to get this faux leather jacket. It's lightweight, looks comfortable, and can definitely be repurposed when all those Halloween costume contests are over.
In the photo Bieber shared, Baldwin is wearing a white tank top with the word "Cherry" on it. You can snag a similar cherry tank from Romwe.
Though it's hard to tell what exactly Baldwin is wearing underneath her oversized leather jacket, it looks like it could be a plaid skirt. This one is affordable and can definitely add a pop of color to your costume.
For Justin's look, you'll need to pick up a trucker hat in Black.
Bieber's plain white tee looks like it's been worn a number of times, so this distressed tee from Amazon is perfect. Pair it with some jeans and you're good to go.
2. Jet-Setting Around The World
Bieber and Baldwin have been traveling quite a bit, so it makes sense that they'd be doing all that jet-setting on a private jet. Thankfully, Baldwin posted a photo of them when they were just about to board the plane in July 2018. And their look is rather vacay-ready.
Here's what they were wearing:
And here's what you can wear on Halloween to achieve this look.
This cute set from Shein is very similar to what Baldwin is wearing in the photo, so your costume will be a near-perfect match.
For Bieber, you'll need a green polo shirt.
Pair that polo with some tailored shorts and a coral-colored cap.
3. Beverly Hills Stroll
In late Aug. 2018, Baldwin and Bieber took a leisurely stroll in Beverly Hills and sported some very colorful attire. In photos from that outing, which you can see here, the couple is wearing bold, tropical colors that look perfect for a fun, vibrant Halloween costume.
For Baldwin's look, you can grab a denim green jacket on ASOS.
You can grab the matching skirt directly from Missguided.
For Bieber's look, a simple tropical shirt and distressed jean shorts will do wonders. ASOS and H&M have your back here.
4. Wedding Rehearsal Chic
No doubt, Justin Bieber and Hailey Baldwin turned heads with their casual, yet chic look at their rehearsal dinner on Sept. 29. You can view their outfits here and check out the threads down below to celebrate Halloween with a romantic twist.
Baldwin wore the classiest, sweetheart mini dress that you can also re-wear every occasion thereafter. Score!
You'll also need to finish off the look with a white hair ribbon and matching heels.
For Bieber, you'll need a white polo.
Pair that with a nice set of navy slacks and a pair of navy, boater shoes to match.
Any one of these looks will definitely make for a truly romantic Halloween couple costume. Have fun. Happy Halloween!