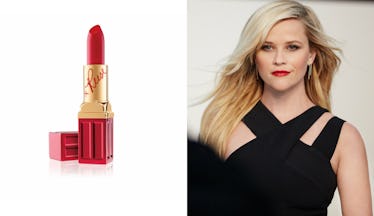 7 Beauty Products That Are Standalone Amazing & Support International Women's Day
Elizabeth Arden
Giving back can literally be as simple as clicking a button. By donating money to a cause you believe in, you're enabling them to continue doing important work that likely requires funding. So on Mar. 8th, consider shopping these International Women's Day beauty products, whose proceeds will all benefit various nonprofits that empower and lift up girls and women everywhere. The power of a dollar can go so far, but the power of women supporting women even farther.
International Women's Day was created in 1975 by the United Nations, who describe it as "a time to reflect on progress made, to call for change and to celebrate acts of courage and determination by ordinary women who have played an extraordinary role in the history of their countries and communities."
It's a day to revel in the power of all female-identifying individuals — to honor our strength, impact, and force — but to also take a step back and analyze the work that needs to be done so that we are all equal and empowered. Because as we all know, there is a lot of work left to do.
While buying beauty products might seem like a trivial way to contribute to this important goal, don't forget that your money will be going towards organizations that have global and truly impactful reaches. From UN Women to Step Up to the Breast Cancer Research Foundation, each one of them helps women in monumental ways. If there ever was a reason to shop, it's this one.
Winky Lux
Winky Lux will be donating 20 percent of all sales (yes, this applies to every single product on their website!) on Mar. 8th to GC4Women, a nonprofit whose mission is "to create a path to success for women and girls in underserved communities around the world who seek it, regardless of their background, nationality or societal status."
Elizabeth Arden x Reese Witherspoon
In honor of Women's History Month, Elizabeth Arden launched a campaign entitled "March On" in partnership with Reese Witherspoon, which includes a pledge to donate $1 million to UN Women. You can help support the cause by purchasing this limited-edition red lipstick — 100 percent of the proceeds will go to the campaign.
Function of Beauty
Function of Beauty is already amazing in that it's a bespoke beauty line that allows you to create your own shampoo and conditioner based on your specific hair needs. And on Mar. 8, it'll give customers yet another choice: you'll get to pick between three women's organizations (Breast Cancer Research Foundation, No More, and Step Up) to donate 100 percent of your purchase's proceeds to at checkout.
QVC
On Mar. 8th, all purchases from QVC and HSN's curated beauty selection will go toward a $325,000 minimum donation to Nest, a nonprofit "dedicated to alleviating poverty, empowering women and promoting peace through the successful creation of artisan businesses." Every product within the curated selection will be from female-fueled businesses, meaning your purchase will have double the impact.
Beautiful Rights
Beautiful Rights is a beauty brand that donates 20 percent of all sales (not profits!) to women's rights and gender justice initiatives year-round, including Planned Parenthood and the ACLU. For the month of March, they've committed to donating 40 percent, and have also added two new organizations customers can choose from: March for our Lives and Moms Demand Action.
L'Occitane
100 percent of the profits made from this limited-edition balm will go towards financing the L'Occitane Foundation's partnership with the Global Shea Alliance, which empowers women shea collectors in Burkina Faso through business development, literacy programs, and more. The partnership has already helped more than 10,000 Burkinabe women gain autonomy.
Skylar Body
Skylar Body, a fragrance brand that makes natural, 100% hypoallergenic scents, held a contest wherein customers got to vote for their favorite of three fan-submitted scents. The winning scent will be announced and available for pre-order on Mar. 8 and 100 percent of all pre-order proceeds will go to non-profit Step Up, an organization dedicated to helping underprivileged girls succeed.