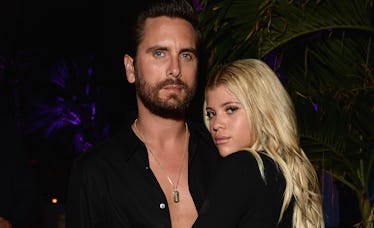 People Are Trolling Sofia Richie's Pic With Scott Disick & The Comments Are Brutal
Scott Disick and Sofia Richie are still dating despite the fact that a lot of people don't seem to think their relationship is a good idea. The couple has been together for less than a year, but it seems like things are still going strong between the couple. They've gone on multiple vacations at this point and Richie has met all of Disick and Kourtney Kardashian's kids, but Instagram comments about Sofia Richie and Scott Disick show that lots of people on the internet don't want this to be a thing anymore. I mean, not that it's up to anyone but Disick and Richie, but people online still comment their opinions nonetheless.
Richie posted a photo of her and Disick boarding a plane on Monday, March 26, and captioned it, "My❤️." While there are plenty of positive comments for the couple in the comments section, the less-than-positive comments said things like, "Are you guys going somewhere where she's legally allowed to drink? Lmk," "Father and daughter," and "She should be your daughter." The comments are very rude, TBH. Other people made note that her dark hair makes her look like Kourtney Kardashian. They said things like, "Anyone else think she's looking like Kourtney," and "why does she look like she transforming into a Kourtney look alike." Honestly, people should really just let these two live.
Richie's photo of her and Disick show them posing as they get onto what seems to be a private plane.
Some people were less than kind in the comments.
Sofia, honey, if I were you, I'd block people from being able to comment on your Instas. You don't need this negativity, girl! Despite the hateful comments, there are still plenty of those flooding this photo with positive words for the couple, saying things like "couple goals," "I'm so happy for you Scott! You deserve all the happiness in the world!" and "So good to see him happy and with someone who appreciates him he is relaxed." Disick has seemed noticeably much more relaxed lately, and the Kardashians have noticed too.
She said in a Feb. 11, 2018, episode of Keeping Up With The Kardashians,
I've just started to see pictures of Scott running around New York [with Sofia] and whatever makes him happy. I don't judge. I don't care. I think it's a good thing. I just hope that he's making good choices and having fun and nothing's getting crazy.
This episode showed that Kris Jenner seems to be pretty OK with Disick and Richie's relationship, as well. Jenner talked to Disick about his relationship status during the same Feb. 11 episode of KUWTK. In the clip, Jenner asks if Disick is dating anyone. He says yes, and then she ends up asking if it's Sofia Richie. He says yes again, and that's when Jenner brings up Richie's age. (She's 19, Disick is 34.) Jenner said, "Wait, so how old is she? Because I really don't know. Is she Kylie's age? Twenty?"
Then Jenner talked about the age difference that existed between her and her late ex-husband, Robert Kardashian. "So I was 17," Jenner said to Disick, "and Robert was, well 12 years older." Disick, in defense of his relationship with 19-year-old Richie, made sure to point out that Jenner was underage when she started dating Kardashian. "You were underage, and she's not," he said, to which Jenner responded, "Oh, touché!"
A source told People that Kourtney Kardashian wasn't pleased about the relationship at first, but she has grown to be fine with it. "Kourtney didn't think it would last," the source said. "And she never thought Sofia was going to meet her kids." They continued,
But now, Sofia spends a lot of time at Scott's, so Kourtney allowed her to meet the kids. She has met them a few times. For a while, the kids didn't see their dad on a regular basis. It was very sad, because they missed Scott. Now, he sees his kids every week.
If you're of the opinion that Scott Disick and Sofia Richie's relationship is weird, first of all, it's their business, and second, you might want to get used to it because it doesn't look like it's going anywhere.