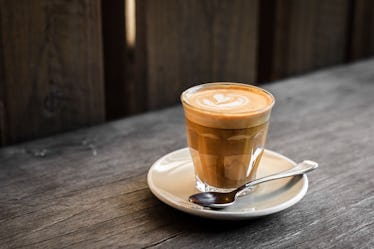 Here Are The Free Coffee Deals You Need To Take Advantage Of On National Coffee Day
In case you haven't already heard, Saturday, Sept. 29 is National Coffee Day. When it comes to the onslaught of daily holidays, this might be one of the more important ones. Given that many people like to start their day with a cup of joe, it's no surprise that a day devoted to coffee would exist. It's also holidays like these that offer some of the best deals for coffee-lovers everywhere. Beware, these free coffee deals for National Coffee Day end soon, so you probably want to grab your cup, like... right now.
If you're really into National Coffee Day, you likely already have your Saturday planned with where you want to get your free morning java, a complimentary afternoon pick-me-up, and a super-discounted after-dinner sip. Even some of the best planners can miss a clutch deal, though. So, to ensure that you are getting the most out of the holiday, you can check your National Coffee Day itinerary against this list of the deals you might have missed to make sure that you're not leaving any java deals on the table once National Coffee Day comes to a close.
Some of deals require another purchase while others are simply discounts on sips you need this season. No matter which offers you redeem, though, you'll be saving money and sipping a tasty cup o' joe.