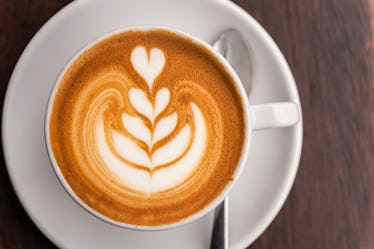 Here's Where You Can Score Free Coffee For National Coffee Day This Weekend
Don't get me wrong — Halloween and Thanksgiving are two of my favorite holidays. However, one of the most important fall holidays that absolutely shouldn't be overlooked is coming up quickly. Saturday, Sept. 29 is National Coffee Day, and a bunch of coffee shops and brands nationwide are going to be doling out some pretty massive deals to celebrate. So, if you're looking to throw back a little (or a lot) of complimentary pick-me-ups, here's where to get free coffee. You're welcome.
After 24 years on this capitalism-driven planet, I've learned that very few things in life are free... except when it's National Coffee Day, that is. Several chains and brands that you undoubtedly know and love are going to be offering deals, deals, and even more deals — and it's up to you to take full advantage of it all. Whether you're all about that Dunkin', or if Peet's is more your style, you can get a really wide variety of discounts and freebies. You're pretty much guaranteed to be bouncing off the walls during the weekend of Sept. 29, and there's no doubt in my mind that your wallet will thank you tremendously. These opportunities only come around once a year, so cheers to free coffee!