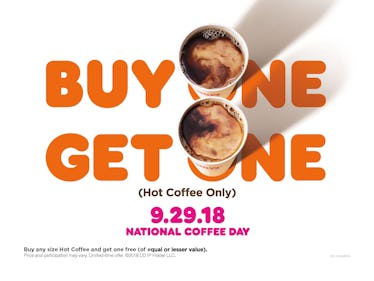 You Can Score Free Dunkin' Coffee On National Coffee Day By Doing This One Thing
Courtesy of Dunkin' Donuts
I would do a lot just to get my hands on a free coffee. I often carry around hundreds of loyalty punch cards in my wallet on a regular basis. It's true, I desperately crave a cup of joe, java, or cuppa — whatever you want to call it, I need it. On Saturday, Sept. 29, I (and you) won't need to go to great lengths to get a free cup. In honor of National Coffee Day, Dunkin' Donuts is giving out buy-one-get-one free coffee to any and all caffeine lovers. So, if that sounds appealing to you (which, I'm sure it does), here's how to get free Dunkin' Donuts coffee for National Coffee Day, aka one of the greatest holidays of the year. It's a literal caffeinated blessing from above.
If you're a regular coffee drinker like myself, you're probably well-aware that free coffee can be pretty hard to come by outside of an office setting. That is, unless it's National Coffee Day at Dunkin' Donuts. According to a press release, the New England-based coffee and donuts chain is offering buy-one-get-one (BOGO) Hot Coffee to customers who buy a hot coffee at all participating DD locations in the United States on Sept. 29. When you buy a DD Hot Coffee, you'll get a second Hot Coffee (of equal or lesser value) fo' free!
Share it with your friends, share it with your mom, or drink it all by yourself. That second cup is free, and it's all for you, so how you decide to enjoy it is completely up to you. Since National Coffee Day lands on a Saturday, it would be nice to share the free cup with your weekend coffee buddy.
In the press release, Tony Weisman, the Chief Marketing Officer at Dunkin' Donuts, said that free coffee is how DD shows their customer love. He said they're encouraging customers to share it with their friends and family. But if you're at all like me, you'll probably keep it for yourself. (Sorry, mom! LOL.)
In the press release, Weisman said:
National Coffee Day is a chance for Dunkin' to show appreciation for busy coffee fans by making it easy to recharge and reconnect with the people they run with, each and every day. With a second cup of Dunkin' Hot Coffee on us, we encourage our guests to take this opportunity to treat a friend or family member to catch up over a cup of coffee on National Coffee Day.
According to the press release, DD also has two seasonal varieties to offer right now, including Pumpkin and Maple Pecan. If you're a basic babe like I am, you'll probably end up choosing either of these flavors for your free hot coffee.
It seems as though the coffee chain is big on freebies, seeing as Dunkin' gave out free cold brew back in April 2018. The chain had recently come out with the trendy new beverage, and DD wanted customers to give it a try. Needless to say, I had a field day.
National Coffee Day is right around the corner, and it looks like Dunkin' Donuts is going all out. Whether you decide to drink two coffees on your own (holla!) or if you end up sharing, free coffee is the best kind of coffee. Merry sipping!