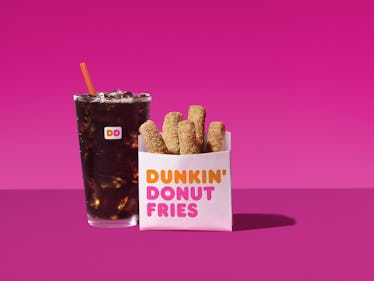 Dunkin' Released A New Cold Brew Flavor That Would Taste Great With Donut Fries
Dunkin' Donuts
ICYMI, Dunkin' Donuts is changing up our mornings with a slew of sweet new breakfast offerings, and I'm so here for it. On June 27, the chain ensured that America will be running on Dunkin' all summer long by announcing three donut bites that you'll want to wash down with the chain's newest caffeinated sip. Get ready to order all the Donut Fries you can carry, because you're definitely going to want to dunk them in Dunkin' Donuts' Brown Sugar Cold Brew this summer.
In a press release on Wednesday, the donut wizards at Dunkin' revealed that the refreshing beverage is coming to you as soon as Monday, July 2, and it's a total upgrade from the donut company's OG cold brew. While Dunkin' Donuts has made a name for themselves with donut everything, I've personally always been a fan of their extensive coffee selection. In the three months that DD's cold brew has been available in stores, it never fails to satisfy my caffeine fix and sweet tooth. (FYI, it is reportedly made in small batches and then steeped overnight in cold water for a distinctive and delicious hint of dark chocolate, per a press release. Yum.) Now, the Brown Sugar Cold Brew promises to take the "velvety" original to the next level, and it'll definitely quench every sugar craving you have.
According to Dunkin' Donuts, the Brown Sugar Cold Brew doesn't have any artificial flavors, and instead owes its sweetness to a "naturally flavored brown sugar syrup." The syrup is added to DD's original Cold Brew, which "is crafted by hand in small batches, prepared by steeping a special blend of coffee in cold water for 12 hours." The donut chain claims that the process "extracts a uniquely distinctive, inherently sweeter flavor from the beans reminiscent of dark chocolate," per the release. Caffeinated dark chocolate infused with brown sugar syrup? I can definitely get on board with that, especially when my morning energy boost rings in at just $2.99 for a medium cup.
The only thing that could make a serving of the Brown Sugar Cold Brew even better is all the sweet, dippable goodies that are being released alongside it on July 2.
Dunkin' Donuts revealed that it is adding to its donut arsenal with a Chocolate Coconutty Donut and Shark Bite Donut, and they are all the icing-covered, fried dough goodness that you need. The Chocolate Coconutty Donut, which is generously dusted with chocolate icing and sprinkles of crumbled shortbread cookie, features a coconut crème filling with real flakes of coconut. It's basically a coconut lover's dream in a donut. Meanwhile, the Shark Bite Donut caters to Jaws fans with layers of white frosting covered in shark-shaped sprinkles.
That's not all. After being tested out in Boston, Massachusetts and Providence, Rhode Island stores earlier this year and getting rave reviews (duh), Donut Fries will also be available at participating Dunkin' Donuts locations nationwide for a limited time. In the press release, the fries are described as thin pieces of "buttery croissant style donut dough" that are fried, and then generously coated in cinnamon sugar and served hot. They look and sound just like churros with their cinnamon and sugar dusting (which is definitely not a bad thing, TBH), and five of the Donut Fries ring in at $2.
As I mentioned before, you only have a few days to wait until DD's brand new items arrive in stores, and I'm so excited. For the first time ever, you'll be able to decide if you "want some (donut) fries with that" when you go to a Dunkin' Donuts location and order a refreshing Brown Sugar Cold Brew. How cool is that?