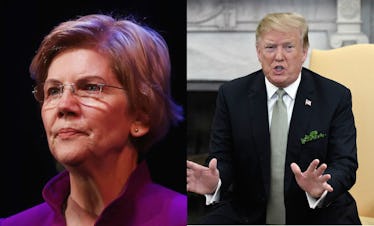 Elizabeth Warren Has Had Some Brutal Things To Say About Donald Trump
Mario Tama/Getty Images News/Getty Images & Pool/Getty Images News/Getty Images
There's always been tension between President Trump and Democratic politicians, but one in particular stands out. As 2020 approaches, that means Trump will go head-to-head with some worthy opponents. Judging by these Elizabeth Warren quotes about Donald Trump, there's a good chance things might get... messy. Grab that popcorn, people.
On Dec. 31, 2018, Massachusetts Sen. Elizabeth Warren shared a video via Twitter announcing that she would be launching an exploratory committee to run for president. Once Warren shared this video, it was only a matter of time until the Democratic politician would officially announce her 2020 presidential run. So, on Feb. 9, after just a few months of announcing her exploratory committee, Warren took the stage in Lawrence, Massachusetts, to announce that she would formally be running for president in 2020. Of course, what's modern day politics without a little shade thrown in? While announcing her run, Warren made a call to the working class that she would work to mend a "rigged system" that Trump has supposedly supported.
[Because] the man in the White House is not the cause of what is broken, he is just the latest and most extreme symptom of what's gone wrong in America. A product of a rigged system that props up the rich and powerful and kicks dirt on everyone else. So once he's gone, we can't pretend that none of this ever happened.
Elite Daily reached out to the White House for comment on Warren's remarks at the time, but did not hear back.
So there's that. Her first official speech as a presidential hopeful and she didn't hold back. However, that won't be the only time Warren takes a jab at Trump, so buckle up.