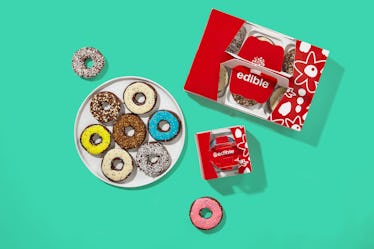 These "Donuts" Are Actually Chocolate-Covered Fruit & They're Perfect For Summer
Edible
If you have not already heard, National Doughnut Day is Friday, June 1, and there are lots of places you can score a free (or basically free) sweet treat. One of those places is Edible. While you may only know it for its fruit arrangements, I'm here to tell you that Edible is expanding its horizons into the doughnut world. These aren't your mama's doughnuts, either. Edible Donuts Arrangements are made of fruit, and they are the perfect snack for summer. Curious to try one? Edible will offer customers one free doughnut in honor of the unofficial pastry holiday, so you can get your fix.
Edible Donuts are the latest creation from Edible, and are just as delicious as your standard glazed or chocolate sprinkle. Unlike most traditional doughnuts, Edible Donuts are not fried. The sweet snacks are made with crisp, green Granny Smith apples, which makes them rather unique in terms of doughnuts. And that's not a bad thing. Better yet? The fresh fruity treats are dipped in 100 percent real gourmet chocolate and topped with colorful chocolate glaze that comes in pretty summer colors such as blue, green, pink and more. Other toppings include "sprinkles, caramelized hazelnut crunch, coconut shavings, and almonds," according to Edible. With so many toppings to choose from, you can have your doughnut any way you want it.
In celebration of National Doughnut Day on Friday, June 1, stop by any Edible location across the country to sink your teeth into one of these tasty creations, free of charge.
"At Edible, our mission is spreading goodness through providing our guests with meaningful experiences made with fresh products, and the launch of the Edible Donut is our newest way of doing so," said Tariq Farid, founder and CEO of Edible, in a press release.
Edible is best known for its fruit arrangements that are made to look like a bouquet of flowers. Well, it still sells its fruit designs, but now you can order one up with an extra special treat. Edible offers two fruit bouquets in three different sizes. Each design is complete with Edible Donuts (awesome) and can be purchased from Edible's online store. The FruitFlowers Bouquet with Edible Donut starts at $29, while the Delicious Fruit Design with Edible Donuts starts at $68.
I don't know about you, but my mouth is already watering. I am already counting down the minutes until all of the scrumptious National Doughnut Day deals — like this one from Edible — are available. The day is shaping up to be a busy one. If you plan to score any doughnut deals, I recommend that you start mapping out your route now, and plan accordingly. Stores like Edible are sure to be full of hungry customers looking to score a deal on National Doughnut Day.
If you can't make it out for National Doughnut Day, Edible is offering buy one, get one free doughnuts from Saturday, June 2, through Wednesday, June 6, at participating locations across the country. Guests who buy a single, half-dozen or full dozen Edible Donuts will receive one or more at no cost. This promotion is also available for orders placed online. More free doughnuts, seriously. June, you are too good to me.
These newly launched doughnuts from Edible are the perfect way to usher in summer. Pick up a box to bring to the beach or to the park while you max and relax in the summer sun. To snag your free Granny Smith apple-based doughnut, stop by an Edible location on Friday, June 1. Available while supplies last.