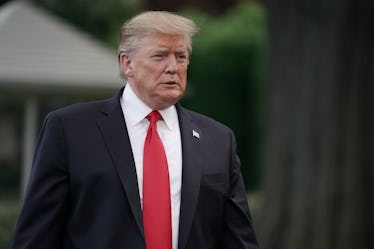 Donald Trump Has Said A Lot Of Very Different Things About Abortion
Chip Somodevilla/Getty Images News/Getty Images
Around the country, abortion laws are changing. While some politicians remain consistent about where they stand on reproductive rights, others aren't so clear. Take President Donald Trump, for example, whose views on abortion have changed, shifted, and developed overtime. These Donald Trump quotes about abortion show his thoughts, and they aren't always consistent.
According to The New York Times, as of May 17, eight states have passed bills in 2019 to limit abortion rights. In mid-May, Alabama legislators voted to ban abortions in almost all cases, and other states like Mississippi, Georgia, Ohio, and Kentucky banned abortions after around the six-week mark, before many people know they're pregnant. Many politicians and public figures on both sides of the aisle spoke out against the various bans. Democratic Senator Elizabeth Warren spoke about the Alabama abortion ban, tweeting: "This is a full-scale attack on women's health." Conservative Fox Nation host Tomi Lahren also condemned the Alabama abortion ban, tweeting "this Alabama abortion ban is too restrictive."
But what is President Trump's take on abortion and the recent wave of abortion bans in general? Though the president has generally said he's "pro-life," here are some quotes to shed some light on the president's views, because they've changed, and kind of a lot.