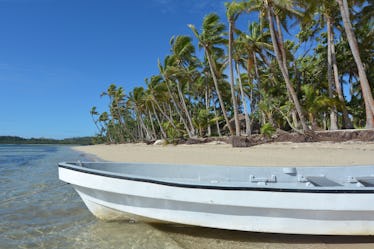 These Discounted Flights To Fiji Are A Perfect Answer To Your Winter Blues
Chameleons Eye/REX/Shutterstock
The Holidays are officially upon us, and for many of us it's already T-4 days until it's officially too late to buy presents. But whether or not you're still scrambling for gifts for others (*guiltily raises hand*), you can start thinking about finding a little something for yourself, too. And these discounted plane tickets to Fiji fit the ticket exactly.
Fiji Airways is running a holiday special deal on flights from the United States to Fiji's Nadi International Airport, according to Business Insider, and compared to normal prices it's a major steal. Round-trip flights out of the West Coast are going for as low as $899, which sounds like a lot until you consider that the more than 11-hour flights normally run in the $1400+ range. If for some reason a tropical island paradise isn't your thing, you also have the option of checking out Australia for the same rates. The travel dates for the discounted flights are from February 2018 through October 2018, so if you've got a little extra cash, it's a great time to take those holiday gift cards and put them towards a little something for yourself. Call it a present to yourself for surviving 2017.
The catch? The tickets are only on sale through Dec. 26, so better get on it. (Or hint to Santa really hard.) Also, the cheapest flights are only out of West Coast airports, with the best deals coming from Los Angeles, San Francisco, and Honolulu.
But if you're already looking out your window at the East Coast slush and dreaming of sunshine, there's still hope. The lower fare to Fiji counts for connecting flights, meaning that East Coasters still have a shot at the discount. And extra fun? Americans don't need a visa to visit Fiji, according to the airline's website — so all you have to do is book the ticket and start planning what color umbrella you want in your fruity drink.
Ugh. Jealous.
Personally, I'm one of those people who starts shivering the second it dips below 70 degrees Fahrenheit, so looking at this tropical paradise is making me scrounge through my sofa for spare change and double-check the available dates.
Of course, I totally get it if $900-ish is too rich for your blood. So while it may not be bright sun and blue water, there are other (more affordable) options for winter getaways around, like WOW airline's $99 flights to Iceland which are available through May of 2018 (though you'll have to pay again to get home). The land of elves and the aurora borealis? Doesn't sound too shabby, if you ask me, even if it is decidedly not tropical.
There's also a whole host of other places to travel cheaply around the globe — a list of the top ten compiled by CheapAir.com included Spain, Thailand, Namibia, and Las Vegas (pretty sure that last one doesn't include the cost of the slot machines). And of course, there are ways to keep things affordable no matter where you go. Jeff Klee, the CEO of CheapAir.com tells Elite Daily that,
Flying mid-week and in the off-season will offer best value for money overall. To keep costs down, the best advice is always to avoid high season, wherever you travel. ... You should also keep in mind local festivals and holidays that might impact overall cost, limits on business hours, and numbers of tourists you can expect to encounter.
I mean, who wants to do anything in February besides visit a tropical island, though? BRB, checking out how much this change from underneath the sofa cushions scored for me. I'll let you know how it goes.