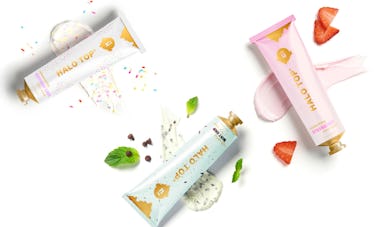 You'll Do A Double Take At These Bizarre & Hilarious "Deals" For April Fools' Day
Courtesy of Halo Top
It's Monday, April 1, y'all, which means it's time to mentally prepare yourself for all the shenanigans to commence in the name of April Fools' Day. Several companies are taking advantage of the tongue-in-cheek holiday by gifting their customers with some eyebrow-raising new products, and it's safe to say these deals for April Fools' Day 2019 will make you do a double take. From ice cream face masks to sneakers that are marinated in wine, there's something for every quirky shopper to check out this Monday afternoon.
There's no shortage of delicious promotions going around, with the Cheesecake Factory teaming up with DoorDash to gift one lucky customer $25,000 and Burger King teasing the debut of its flame-grilled Impossible Burger. However, the April 1 pickings on the non-food front are also pretty incredible, according to a number of promotional emails that Elite Daily received.
If you've ever dreamed of straightening out your pupper's snaggletooth with a dog-approved invisible aligner, getting your Redbox picks delivered straight to your door, or getting your downward dog on with the smell of freshly baked pretzels in the background, now's the time to get on that.
Here are six deals for April Fools' Day that you'll definitely want to check out — and pass along to your crew.