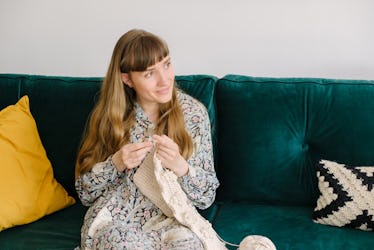 These Crochet Hacks On TikTok Will Help Keep You So Warm & Cozy At Home
Nadzeya_Kizilava/E+/Getty Images
Your home is your happy place, and you want to feel as cozy in it as possible. Ideally, your couch has one or two fluffy blankets and a couple of throw pillows to take your power naps on. While you could obviously buy all of those items, you should consider checking out all of the creative crochet hacks on TikTok instead. By crafting your own sweater, quilt, cardigan, or all of the above, you can ensure your home is #peakcozy, while adding some custom-fit knitwear to your wardrobe as well.
Whether you're new to crocheting or a seasoned pro, these crochet hacks on TikTok will make sure your crafting project goes over without a stitch. For instance, one hack can make sure your yarn never gets tangled. Another will help you remember which stitch you left off on, so it's easier to take breaks amid crafting. You can even turn your DIY project into a relaxing evening and break out your yarn and hooks while settling into the couch to watch your fave show. Or, you can gather the roomies for a craft night to design the perfect movie-night blanket with each housemate crocheting different parts.
When you show off your new pair of leg warmers or warm wool throw on social media, your followers will be so impressed by how stylish your cozy situation is. They may ask you to divulge your own crochet hacks on TikTok, so they can design some one-of-a-kind pieces, too.