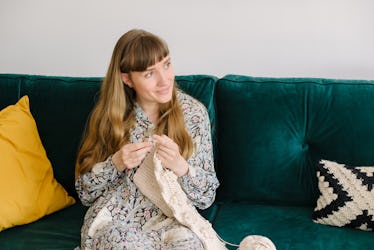 TikTokers Are Making Temperature Blankets For 365 Days Of Hot & Cold Mems
Nadzeya_Kizilava/E+/Getty Images
The beginning of the new year is a great time to start a fun and fresh project. If you love to be cozy all winter long and beyond, crafting a temperature blanket just may be the DIY project you're looking for. Luckily, learning how to make the temperature blanket from TikTok is pretty simple and only requires a little bit of work one day at a time.
You may have come across a video or two on your FYP of someone making a #TemperatureBlanket recently. It's a perfect beginning-of-the-year project, because that's exactly how long it takes to complete — one year. Don't worry if this sounds like an intimidating endeavor. You only need to do one step per day that takes no longer than brewing a cup of coffee. By the end of the year, you'll have something impressive that you made with your own two hands.
A temperature blanket is essentially a simple crochet blanket, but you must change the yarn color based on the average outdoor temperature. By the end of the year, you'll have a complete blanket that's vibrant and colorful AF. So, what are you waiting for? Now is the time to begin DIY-ing, so let's get started with these simple temperature blanket steps from TikTok.