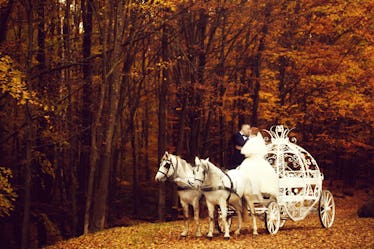 These Cinderella Carriage Rides Will Make You Feel Like A Disney Princess
Shutterstock
Being a princess isn't all about castles and tiaras. It's a fairytale from the moment you wake up and toss your hair into a silky bow, to the moment you hit your pillow after a day of waving to parade crowds and wearing ball gowns. (At least, that's what it's like in some of my favorite Disney movies.) If you can say the same, then you need the scoop on these dreamy Cinderella carriage rides that'll make you feel like royalty.
Whether it's your wedding day and you're celebrating at Disney or touring Nashville, these carriages are made for your itinerary. They're lined with twinkly lights or sweet floral details, and make every street a little more magical. They won't turn into a pumpkin at midnight, which is ideal for when you want to make a grand return to your accommodations after sightseeing. Not to sound cheesy or cliché, but if you're a Disney lover, they're like the glass slipper on Cinderella's foot: a perfect fit.
From the moment you step onto one of these carriages you'll be in awe, and wondering if fairy godmothers really do exist. TBH, I'm not sure about that one, but these carriages are very real and meant for your next magical experience.