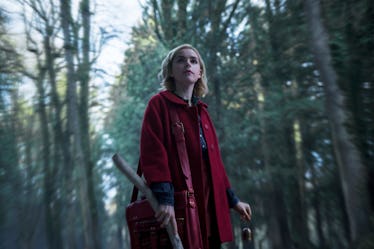 These 'Chilling Adventures Of Sabrina' Halloween Costume Ideas Are Witchin'
Diyah Pera/Netflix
Even if you don't identify as a Halloween enthusiast, spending the last few days before the holiday with Netflix's Chilling Adventures of Sabrina will inevitably inspire a creepily autumnal mood. From Sabrina's aunts' cozy Victorian home near the eerie woods to the characters' often eccentric clothing, the show is essentially a Pinterest board of fall favorites come to life. If you're still struggling to find the perfect Halloween costume, these Chilling Adventures of Sabrina Halloween costume ideas will make you the talk of the night's witching hour.
Originally intended as a Riverdale spinoff on The CW, Chilling Adventures of Sabrina made the switch to Netflix with its Riverdale-esque tone still very intact. Sabrina Spellman's hometown Greendale is a neighbor of the titular town, but Sabrina's intriguing world will keep you from wanting to sneak out of town for a peek at Jughead and Archie. Nearing her sixteenth birthday, Sabrina faces the prospect of her dark baptism, meaning that she must renounce her ties to the mortal world, commit to serving the Dark Lord (no, he's not Voldemort), and accept her identity as a full witch. As the milestone approaches, she feels more inclined to decline this future, but there are mysterious dark forces planning otherwise.
The show's first season doesn't debut on Netflix until Oct. 26, but if you need to plan out your Halloween costume before then, we have your go-to list of Chilling Adventures of Sabrina characters to emulate this year. Good luck with your costumes, witches!