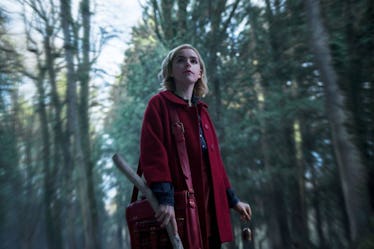 The First Photos Of 'The Chilling Adventures Of Sabrina' Will Get You In The Fall Spirit
Netflix
Sorry, Sabrina the Teenage Witch fans, but if you were still hoping for a sunny side to The Chilling Adventures of Sabrina, first look photos at the upcoming Netflix series don't exactly hint at any talking, sarcastic cats nearby. The middle school Twilight fan inside you will delight in the mysterious vibes that these photos are suggesting, thus the new twist on the classic character's story isn't exactly light and breezy fare. The first photos of The Chilling Adventures of Sabrina mean that autumn is coming, but I have no complaints after seeing these snapshots.
Premiering on Netflix on Oct. 26, The Chilling Adventures of Sabrina released two new photos from the series through which Riverdale showrunner and Sabrina creator Roberto Aguirre-Sacasa definitely links the series to Riverdale's creepy, fantastical vibes. In one image, Mad Men's Kiernan Shipka as Sabrina is in the woods wearing a Red Riding Hood-esque coat and holding a bell and what appears to be a broomstick. The background is slightly blurry, bringing us an otherworldly essence that hints the story isn't totally grounded in reality. Can Sabrina stumble through the woods and end up in Riverdale in Season 2?
The second photo cuts right to the chase, showing Sabrina kneeling in front of a mysterious man with her aunts nearby. I don't mean to send you on a flashback to memories of high school English class, but this little powwow totally compares to The Crucible's meeting of witches in a secluded place. Going along with that theme of a coven of witches hanging out, E! News reports that Netflix's official description of the photo is that the image displays "the dark baptism of Sabrina," which sounds...interesting.
Although this series looks like it's bound to inspire plenty of last-minute Halloween costumes this year, the group photo reveals far more of what could be major plotlines throughout the first season. What's up with the shirtless guy in a bunny mask in the background? Similarly, why are Bunny Man and a modestly dressed girl on the other side of the photo almost translucent? Are they ghosts? Do the others know that they're there?
According to E! News, the 10-episode first season of The Chilling Adventures of Sabrina envisions Sabrina's high school years as a "dark coming-of-age story that traffics in horror, the occult and, of course, witchcraft." Sabrina is expected to feel torn between her dual identities as a mortal and a witch, which may explain her nervous-looking stance in this "dark baptism" photo. Earlier this summer, Aguirre-Sacasa also released the show's first teaser trailer, which flashes very Halloween-esque images before inviting viewers to "join the coven." I assume doing so entails a meeting with this mystery man in a cape, so I'll hold off on officially joining until we get more clarification about that.
Shipka joins a cast that includes Miranda Otto and Lucy Davis as Sabrina's aunts Zelda and Hilda and former Disney star Ross Lynch as her crush Harvey. Netflix picked up the series last December for two seasons with a total of 20 episodes, meaning we might have plenty of these haunting witch meetings to look forward to (or become terrified of) in Season 2. But here's hoping that the series explains Sabrina's baptism ASAP — Salem the cat would not approve.
Season 1 of The Chilling Adventures of Sabrina premieres on Netflix on Friday, Oct. 26.