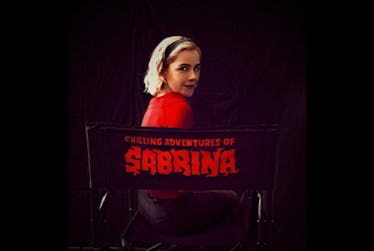 'The Chilling Adventures Of Sabrina' Finally Has A Premiere Date & It's Perfectly Spooky
Is a series really considered scary fare if it doesn't premiere in October? Even if a TV show's frights lean toward the tamer side, its general ambiance becomes even spookier if it hits TV during the Halloween season. Season 3 of Riverdale begins on The CW on Oct. 10, but if you're Netflixing later in the month as the weather chillens, the Riverdale creator has a new creepy project in store. The series putting a dark twist on the story of Sabrina the Teenage Witch launches on Netflix soon, so when does The Chilling Adventures of Sabrina premiere?
The 10-episode first season of The Chilling Adventures of Sabrina hits Netflix on Oct. 26. With several Sabrina lookalikes making the announcement at the recent TCA Summer Press Tour, The Chilling Adventures of Sabrina is not exactly a sunny continuation of the Sabrina you know best via Melissa Joan Hart. Helmed by Riverdale creator and Archie Comics chief Roberto Aguirre Sacasa, the series takes inspiration from the original comics and, according to E! News, envisions Sabrina's high school years as "a dark coming-of-age story that traffics in horror, the occult and, of course, witchcraft." Mad Men's Kiernan Shipka plays Sabrina, who is torn between her dual identities as a witch and a mortal. Sooo, does the darker tone mean that she doesn't have a talking cat this time around?
While the series shares creative qualities with Riverdale, the likelihood of a crossover between the two shows is unlikely for now, but never say never. Although it was originally intended as a CW spinoff, Chilling Adventures of Sabrina being on a different network than Riverdale complicates a crossover possibility, and Riverdale executive producer Jon Goldwater previously told TVLine that the shows are "two separate entities for right now." Keep in mind, though, that Sabrina lives in Greendale. We certainly can't let that parallel with Riverdale go unmentioned for long.
Shipka leads a cast that also includes Miranda Otto and Lucy Davis as Sabrina's aunts Zelda and Hilda, former Disney star Ross Lynch as her crush Harvey, and Chance Perdomo as Sabrina's warlock cousin Ambrose. On her Instagram account, Shipka recently shared a video of herself with Otto, Davis, Perdomo, and Gavin Leatherwood (warlock Nicholas Scratch) welcoming fans to their "coven." Don't get too excited, American Horror Story fans, it may not be that coven.
Meanwhile, Aguirre-Sacasa has posted a creepy video teaser of images from the show that looks as if it's an excerpt of a Chilling Adventures of Sabrina opening theme. I miss vintage theme songs with full music and moments to introduce each cast member, but whatever this is has serious Stranger Things vibes. Is Greendale anywhere near Hawkins?
Netflix picked up The Chilling Adventures of Sabrina for two seasons, with a total of 20 episodes, last December. After writing the Riverdale pilot, Aguirre-Sacasa did the same for the first episode of Chilling Adventures of Sabrina, while Riverdale pilot director Lee Toland Krieger also returned for the new series.
In a February 2018 interview with ComicBook.com, Shipka spilled about portraying the darker side of such a well-known character, saying:
After I read the script, I became immediately obsessed with the role, with how Sabrina is portrayed and how bada** the whole thing is. It's going to be really dark and really cool, and have this very like macabre take on everything. I'm really pumped to be a witch. Who wouldn't be?
My inner Hermione Granger is ready to be a bit of a Bellatrix Lestrange and watch how The Chilling Adventures of Sabrina gives another teen witch an edge. Season 1 of The Chilling Adventures of Sabrina debuts on Netflix on Friday, Oct. 26.