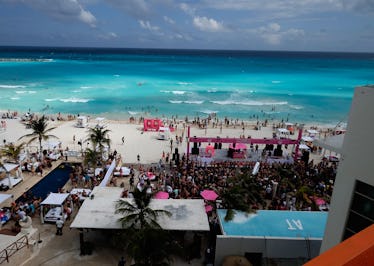 You Can Fly Nonstop To Cancun For $200 With This Deal, So Spring Breakers Get Ready
Dimitrios Kambouris/Getty Images Entertainment/Getty Images
Greetings from everywhere in America, where it's freezing and we're literally all miserable. As temperatures continue to drop drastically across the country (like seriously, it's snowing in Florida, what is happening), it's time to start looking for a vacation destination that'll keep us nice and toasty for as long as possible. Lucky for those carefree college students looking to escape the arctic weather for beaches and bright sunshine, these cheap flights to Cancun are only around $200 for a nonstop (round-trip!) voyage to paradise. Hello, my bags are already packed.
Compared to a normal nonstop price that runs $600 or more, discount deal site Scott's Cheap Flights' points out that right now, prices are super low. Fees vary based on departure cities, with the lowest starting at $169 from Houston (IAH) to the highest amount at $258 from Nashville (BNA). Other cities include Los Angeles (LAX), Washington D.C. (BWI and IAD), Chicago (ORD), and more. You can peep Google Flights to see more available cities.
Not only can you buy tickets to travel on varied dates, mostly between January and April 2018, but the deal also features major airlines, including Delta, JetBlue, United, American, and Interjet. Baggage fees are not included in the nonstop travel tickets, but c'mon — it's Cancun, why are you packing clothes?
With these kind of deals, it's safe to say that it's spring break survival of the fittest. But you'll have to act fast. According to Scott's Cheap Flights, these fares can disappear at any time, only lasting a few days to even just a matter of hours. And these specific fares are only expected to last a day or two — so spring breakers, you better get moving if you wanna secure your beach side seat.
So how do you book your ticket? It's actually really simple — all you need is Google Flights. Plug in your departure airport and Cancun as a destination, along with your preferred dates, and watch the magic happen. Of course, it helps to be subscribed to a service like Scott's Cheap Flights, which does all the work of flagging those cheap flights using search engines such as Google Flights and Momondo. If you have that, literally all you have to do is click the button, and it does the search for you.
Mexico not really your style? Never fear, JetBlue is offering $89 tickets to the Caribbean for those looking for a destination a little bit more off the beaten path. There's literally no excuse to not take part in a tropical vacation.
And deals aren't just restricted to North America and the Caribbean. Been craving a homemade macaron? Bonjour, Paris! Want to get that adrenaline pumping and run with the bulls? Hola, Spain! Wherever that wanderlust is itching to go, there's probably a cheap flight for all of us ramen-eating, bank account-busting college students and recent grads.
And if the killer prices aren't enough to bring out that inner adventurer, the weather might. This bomb cyclone that's about to hit the Northeast, and even parts of Alabama and Florida, on Jan. 4 is predicted to bring six to 12 inches of snow, winds hitting 40 to 60mph, freezing rain, and sleet. Since it's the end of the world y'all, it's safe to say that a trip to Cancun is beyond necessary.
As I pull my beanie closer to my head, viciously wrap my scarf around my neck, and clutch at my steamy coffee cup for dear life, all I can dream about is sitting poolside drinking a frozen cocktail without running the risk of hypothermia. So if you spring breakers don't want to take the plunge, book a ticket, and escape to an 80-degree weathered vacation, pretending like this cold weather isn't happening. Please, do it for me.