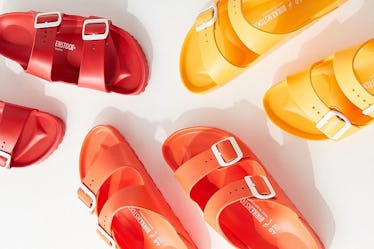 These $40 Birkenstocks Come In The Juiciest Colors Ever, So What Are You Waiting For?
When it comes to elevating its offerings with high-end fashion collaborations and luxe design details, there's one footwear brand that is nailing it. But thanks to these partnerships and upgrades, its products are only getting more expensive. So when I saw a new line of cheap Birkenstock sandals — and I mean actually cheap — that's also actually really cool, I was appropriately surprised. They're trendy, stay true to the much-loved double-buckle silhouette, and retail for $40 a pair. Now this is what I'm talking about.
In case you haven't been following Birkenstock's recent (as in within-the-last-month recent) releases, then let me give you a quick primer. The shoe brand has experienced a meteoric rise thanks to high fashion designers championing them on runways (Rick Owens even got on the train), and they've been seen on the feet of the most influential fashion editors and street style stars in the game. Under two weeks ago, Birkenstock released the glittery styles that it collaborated with Opening Ceremony onto the masses. The shoes, which come in clog and sandal form, were first revealed at Opening Ceremony's spring 2018 runway show held at Disneyland and naturally, people went wild for the twinkling kicks. I, myself, am partial to the pink sandals (there is both a pink and silver color way) and was thinking of buying a pair. That is, until I saw their $145 price tag. While not overly exorbitant, it's not cheap, either. But that was only the tip of the iceberg.
Last week, Birkenstock released another new style, this time exclusively through Barneys New York. They are even cooler than their sparkly predecessors and feature fuzzy plush footbeds. One style boasts a patent black sandal and blue fuzz, while the other comes with a white matte sandal and cotton candy pink fuzz. They're basically a cozy girl excuse for slippers, which I am obviously all about. Seriously, they're to die for. Their price, however, is not. At $290, they are way outside of the responsible shopping rules I've set for myself on my current income. This is one sartorial craving I will have to resist.
Today, it seems as if the Birken-gods heard my prayers for a stylistically unique yet legitimately affordable shoe, as demonstrated through the new technicolor release. The sandals, which are made from a rubber-like material called EVA, come in bubblegum pink, sky blue, sunny yellow, clementine orange, cherry red, white, light gray and black, and most feature pops of white in buckle form. (The buckles on the black pair match the sandal.) At $40, they're so affordable that I could actually buy a few pairs, maybe one in a more playful color and one neutral? Seeing as Birks look good with everything, from boyfriend jeans and cutoff shorts to summery floral dresses and rompers, why not invest in a couple of hues? Ah, the beauty of the athleisure trend!
Birkenstock Sandals, $40, Urban Outfitters
As Hypebae points out, the new offering would also look amazing when paired with equally colorful socks, from those with sporty ringer stripes around the top to those boasting a full-on tie-dye pattern. The ultimate versatile shoe, these Birkenstock sandals are also ideal for the beach or the pool, thanks to their rubbery composition. Unlike the original Arizona sandals, which are a suede material that water could harm, these guys won't mind if pretty much any liquid gets on them (you can literally just wipe it off).
Birkenstock Sandals, $40, Urban Outfitters
Considering the buzz surrounding Birkenstock as of late, I'd recommend hopping on this new collection now if you want a pair. You can buy them online at Urban Outfitters' website (because of course the retailer was involved in this cheap release!) — they're not available in-store.