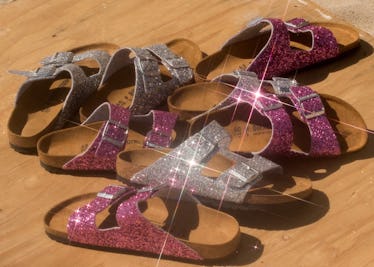 Glitter Birkenstocks Are About To Drop, So You Can Be Comfy & Extra AF At The Same Time
Opening Ceremony
When it comes to bold spring sandals that pack an unusual punch, there's a certain pair that stands above all others this year, mainly for their shine factor. Opening Ceremony's glitter Birkenstocks are the perfect combination of comfy and dazzling, so clear some space out in your closet because you're going to want a few pairs.
The shoes — which actually come in Birkenstock's traditional sandal and clog forms — debuted at Opening Ceremony's Spring 2018 runway show, which was held at Disneyland earlier in March. Offered in both glittery pink and sparkly silver color ways, the shoes were worn with pairs of muted gray socks as they stomped their way down the runway at the Magic Kingdom. To be honest, I can't think of a better place for the shoes to have debuted. They outshine Cinderella's sparkly blue princess dress and are quite fantastical as far as footwear goes.
The collection as a whole was filled with bright colors, high-sheen fabrics, and quirky accessories. As Vogue Runway described it, "Something about the models' tied-up anoraks, crochet bucket hats, and glitter Birkenstocks—another new collab—worn with wooly socks made each look like a lost tourist who had wandered off Main Street and become the star in her or his own fashion show." How appropriate!
And now, the Birkenstocks have dropped for the masses — or they're about to, at least. The pack drops on April 2 both on Opening Ceremony's website and in-store. The Arizona style, which is the slip-on sandal, will retail for $145, while the Boston, the clog style, will retail for $155. Traditional Arizona Birkenstocks retail for $100, so the uptick in price isn't too excessive when you consider the glitter and color additions.
I myself am partial to the sandals. While I grew up wearing more clogs than I'd like to admit (I had a pair of garish red patent clogs that I wore incessantly in kinder garden and first grade), the sandals seem more wearable to me for some reason. Maybe it's because they have less solid surface area and therefore less solid glitter?
Or maybe I'm just having sartorial PTSD from my past clog-wearing days. Regardless, I'd wear the sandals — preferably in pink! — with cute summery floral dresses and an equally as outrageous bag, or with faded denim boyfriend jeans, a white shirt, and red lipstick.
The clogs, on the other hand, I would pair with a black mini skirt and bright graphic tee. They'd also look super cute peeping out from under long, wide-leg pants and would transition way more easily to fall weather than the sandals. In other words, I might need to get one of each style to ensure my glittery shoe quota is filled each season.
It's funny for me to think of Birkenstocks as a super cool fashion shoe. Before the normcore trend took the fashion world by storm, Birkenstocks were considered basic, if not ugly by most people with an interest in fashion. My dad used to wear them when I was growing up in Colorado, as did the hippie college kids who lived in Boulder. So to see them now, transformed, and on one of the coolest runways around is certainly surreal, but if any brand was going to do it, it would be Opening Ceremony. Seeing as Balenciaga recently sent their take of Crocs down the runway — theirs featured massive platforms and little plastic charms — it's safe to say the so-ugly-they're-cool shoe trend probably isn't going anywhere anytime soon.
So channel your inner Dorothy from Wizard of Oz and get your shoe shine on.