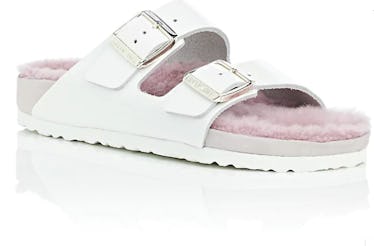 Furry Birkenstocks Just Dropped, If You Like To Walk On Clouds & Still Make It ~Fashun~
If there's one shoe that transcends trends, styles, and tastes, it's a certain much-loved two-buckle leather sandal. Having been reimagined through countless designer collaborations and capsule collections, it's become synonymous with athleisure cool. And now, a new version is available — and it's the most luxe yet. Where to buy furry Birkenstocks? You can snag a pair right now at one of the coolest retailers around, because your feet deserve to have fuzzy feelings, too.
While I have never actually owned a pair of Birkenstocks, I've seen them on the feet of just about everyone else in my life, from friends to fashion editors to parents, and the like. Known for their uber comfy design, so-granola-it's-cool aesthetic, and convenient slip-on style, they're a go-to shoe for literally everyone, no matter profession or preferred sartorial look. In that sense, they're a unicorn — name one other shoe that street style stars and Colorado hippies alike adore. (I'm from Colorado and friends with many of said hippies—they can't believe "Birks" have walked high-fashion runways.)
For Spring 2018, Opening Ceremony included glittery Birkenstocks in both sandal and clog form in its footwear offerings, sending fans of the brand into an excited conniption. Paired with bland gray socks, they literally shone and infused the line with a sense of ethereal energy. The collection was shown at Disneyland and the twinkling shoes truly backed up its claim of being the most magical place on earth. Eat your heart out, Dorothy Gale, your sparkly red slippers are so 1939.
While glitz can be rad, pastel plush is cooler. Head over to Barney New York's website, and you'll bask in the glory of the all-new Birkenstock Arizona sandal, which comes in two colors and boasts the fuzziest of soles. Launched in 1973, the Arizona silhouette has been one of the brand's most popular for more than 40 years. The first option is a white leather sandal with a soft, blush pink lining, while the other has black patent straps and cotton candy blue fuzz. The former option, which gives me major Princess Bubblegum vibes (Adventure Time is totally an adult cartoon, right?), boasts silver-tone buckles embossed with Birkenstocks branding, while the latter, decidedly more Darth Vader-esque, is outfitted with matte black hardware.
As someone whose style fluctuates from '90s grunge to '60s high tea on the daily, I can't decide which pair I love more. They're both statement styles, that's for sure, but are honestly wearable AF. They'd both pair excellently with summery floral dresses, and the black pair would look especially cool with cropped denim jeans, a white T-shirt, and those black Adam Selman x Le Specs Lolita sunglasses that everyone and their mom (myself included!) owns. While I am nowhere near (read: 10-plus years away from) marriage, I can't help but to think the white pair would make for awesome pre and post-ceremony footwear, because dancing at a reception all night in heels is a hard no.
Standard Birkenstocks run for around $100, which isn't cheap. These new pairs, however, retail at a cool $290, meaning they're even less attainable. But if you think about it, Barney's is known for selling the highest of quality of products, meaning anything they stock is going to have a price tag to match. Seeing as the new styles are also incredibly unique and have stylistic details like shearling footbeds and patent material, they're worth the chunk of change, at least in my opinion.
If you love being comfy just as much as you do trolling Vogue Runway, head to the Barney's website now and snag yourself a pair before they're gone.