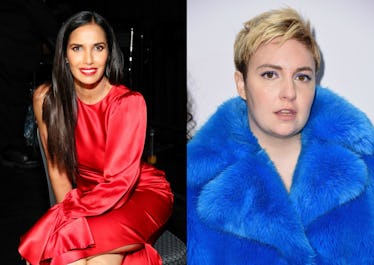 These 6 Celebs Got Candid About Their Endometriosis & Their Words Are So Inspiring
Astrid Stawiarz/Getty Images Entertainment/Getty Images/Michael Loccisano/Getty Images Entertainment/Getty Images
For years, I thought that my excruciatingly painful periods were normal. Any time I complained to someone about my cramps, they were sympathetic, but always said something like, "periods are the worst." I had never met anyone who had a history of endometriosis, or even suggested that I see a doctor in case my experience wasn't your run-of-the-mill menstrual awfulness. In recent years, I've watched more people open up about the condition. These celeb quotes about endometriosis journeys truly capture what it's really like to be someone with endo. By being vocal about how endo has affected their bodies and their lives, they have raised awareness so that, hopefully, fewer people have to suffer for years without a diagnosis.
Endometriosis affects about 200 million women globally as per the Endometriosis Foundation of America. It's a condition in which the uterine lining tissue grows in places inside the body where it isn't designed to be. "The result is inflammation, as the tissue responds to the monthly fluctuations of a woman's menstrual cycle," according to the Endometriosis Foundation.
Every person's experience with endo is a little different, and these celebrities capture a spectrum of ways that living with the health problem can make life challenging, lead to other conditions, and even inspire love for your own body — despite its limitations.