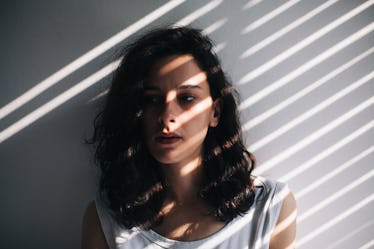 5 Symptoms Of Endometriosis That You've Never Thought To Pay Attention To
It can feel overwhelming to think about all of the possible illnesses or afflictions you might have, simply because you're suffering from a headache. Cue the typical WebMD spiral, where you type in "migraine" and the internet tells you that you have eight days to live. On the opposite end of the spectrum, some symptoms of certain illnesses can often slip by you entirely unnoticed. For example, there are countless symptoms of endometriosis that you've probably never thought to pay attention to.
A good rule of thumb is to always try your best to toe the line between being self-aware and paranoid, and a good way of doing just that is to keep track of symptoms as they appear. Sometimes, one symptom on its own means nothing, but when you put them all together, you can start to get a more full and rounded picture of what's really going on in your body.
Like fibromyalgia, for example, endometriosis can often present itself via a series of symptoms that look like nothing especially unusual. But when you put the symptoms together, you see the picture: Endometriosis affects at least 176 million women worldwide, and the number is only growing as awareness efforts reach more and more people.
Here are five symptoms of endometriosis that you might have totally ignored, up until now.