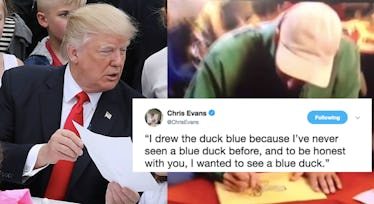 These 'Billy Madison' Memes Of President Trump's Blue Flag Picture Are Too Perfect
Chip Somodevilla/Getty Images News/Getty Images/Universal Pictures
ICYMI, the internet is having a field day over photos of President Donald Trump apparently coloring an American flag completely wrong. You know, because the POTUS should probably know that the stripes on the flag are red and white — and not blue. Now, the Twitterverse, as it's apt to do, has made the moment into a meme that's just too spot on. Honestly, these Billy Madison blue duck memes of Trump coloring the American flag are everything you didn't know you needed. Elite Daily reached out to the White House for comment on the photo but did not hear back at the time of publication.
It all started on Friday, Aug. 24 when President Trump and Melania Trump headed to Columbus, Ohio to visit the Nationwide Children's Hospital. Part of that trip included talking with kids and coloring pictures of American flags, all of which was recorded by cameras. What could have been a pretty patriotic photo-op soon turned into a viral internet sensation when an eagle-eyed Twitter user named Talia (@2020fight) noticed that there was something amiss with the president's rendition of the stars and stripes.
On closer examination, it was seemingly confirmed that: yes, the president of the United States had apparently colored in one of the flag's stripes blue — instead of, you know, red or white. Elite Daily reached out to the White House for further comment on the President Trump's flag photo but did not hear back at the time of publication. People were shook by Trump's blue flag.
Twitter users couldn't help comparing the blunder with a now-iconic scene from 1995 film Billy Madison. In one scene, Billy Madison holds up his drawing of a blue duck and explains to his his first grade teacher, "I drew the duck blue because I've never seen a blue duck before, and to be honest with you, I wanted to see a blue duck." Unsurprisingly, an new internet meme was born.
Actor Chris Evans made the connection, and it seems as though people realized that the comparison is too perfect, or rather, too "quacktastic."
Here's the original scene for reference.
Is that spot on, or what?
Several Twitter users also noticed that President Trump appeared to be looking over at the other children's flag drawings as if he needed help.
While POTUS and FLOTUS were at the hospital to learn more about the opioid crisis in the United States along with what communities are doing about it, much of that was unfortunately overshadowed by the question of whether the president — who is known for his comments on patriotism, mind you — knows that the 13 stripes on the flag are in fact red and white.
The White House has yet to respond to the hoopla surrounding the photographs, but this is pretty hard to explain away. Does Trump not know that the flag's stripes are red and white? Or is he pulling a Billy Madison and just wanted to see what they looked like blue?
We may never know, but the internet is a wonderful thing, y'all.