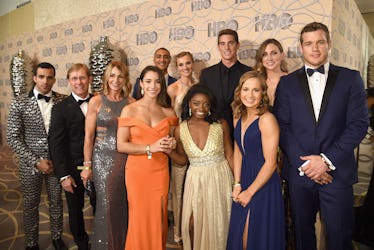 These Are The Epic Golden Globes Moments That You Didn't See On TV
Joshua Blanchard/Getty Images Entertainment/Getty Images
Award shows always look so shiny and polished on television. However, it takes a lot of work to get there. Celebs prep for months before hand, presenters go through numerous rehearsals, and there are always tons of behind-the-scenes action happening before, during, and after the actual show. The 2018 Golden Globes were no exception. There was a plethora of note-worthy moments throughout the aired show, but the real action happened off-screen. You won't believe how many behind-the-scenes moments at the 2018 Golden Globes you almost missed.
The Golden Globes this year was awesome. The important cause, Time's Up, was highlighted, Seth Meyers made an amazing host, and there were a lot of great shows and movies celebrated. One thing that did not go unnoticed was Oprah. OPRAH WINFREY, LADIES AND GENTLEMAN. She was awarded the 2018 Cecil B. DeMille Award, which is given "to a talented individual who has made an incredible impact on the world of entertainment." Oprah is deserving of all awards, duh.
However, they slyly sat her right in the front so every presenter and winner couldn't miss her. The funniest part was people were actually frazzled by her presence (I don't blame them). Seth Meyers even used a little reverse psychology to get her to run for president. Um, fingers crossed.
Since Oprah obviously stole the show, you may have missed a few other things due to temporary Oprah-blindness. Below are some behind-the-scenes Golden Globes moments you might have not noticed thanks to Oprah.
Some of the women supporting #TimesUp rallied for a photo.
Justin Timberlake was beyond proud of his incredible wife, Jessica Biel.
Millie Bobby Brown played peek-a-boo.
Kelly Clarkson found her inner-tiger with this amazing face mask.
When Kelly Clarkson and Steve Carell finally met.
Natalie Portman posted her first Instagram story EVER.
Sterling K. Brown got a little sugar on the red carpet.
Tom Hanks was bringing the people what they really wanted — martinis.
The ladies of Big Little Lies proved they are actually that supportive of each other.
One of the big conversation topics surrounding this year's Golden Globes was how Seth Meyers was going to navigate hosting. From politics to sexual harassment, word was that nothing was off limits. Meyers promised that the show would be topical and hit on the "internal politics" of Hollywood. He explained that his monologue would focus more on the social climate that inspired the popular nominees, rather than what's happening in the White House. As reported by People, he said during an episode of Late Night With Seth Meyers,
With the monologue, as far as talking about anything in the news right now, it seems like this year more than ever Hollywood has its own internal politics that obviously deserve to be talked about ... Going into it our focus is far more on the worlds that make these films and less on anything that's happening in Washington.
As far as Trump antics in office, Meyers did confess, "there are times where I wish we were talking about other things." He explained,
He holds the keys to us not talking about him, which would to be to just behave differently ... But while he continues on this path, we'll continue on ours.
As far as the Golden Globes are concerned, Meyers definitely spent the majority of his time leaning into TK TK
Overall, the Golden Globes was a great kick-off to awards show season. There were laughs, tears, and some surprising (and not so surprising) victories. Don't get worn down too quickly — next stop is the Oscars.
Check out the entire Gen Why series and other videos on Facebook and the Bustle app across Apple TV, Roku, and Amazon Fire TV.