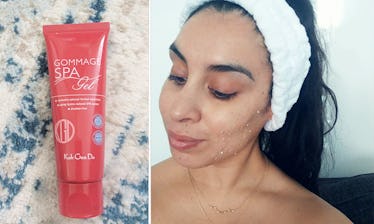 I Tried An At-Home Peel & My Dead Skin Came Off In Satisfying Chunks
Stephanie Montes
Every single time I get a facial, no matter where I go, the aesthetician asks me if I exfoliate — without fail. I do! I use an exfoliating cleanser every day. However, really gritty, abrasive exfoliators can irritate the skin (even if you don't have sensitive skin) and cause inflammation, so I go with a really gentle one. It maintains semi-soft texture and a clean complexion, but according to every facialist I've ever talked to, those results pale in comparison to an at-home peel can do.
So, what's the crucial difference? Let me break it down for you. Your run-of-the-mill scrubs and exfoliating cleansers are very different from peels. Sure, both slough off dead skin, but peels work on a much deeper level and are still gentle enough for sensitive skin. Acidic and enzymatic exfoliators, aka peels, remove dead skin and smooth the texture just like scrubs but without the abrasive texture — they basically melt off dead skin like magic.
In an attempt to ace my next facial, I've been testing at-home peels. When vetting new products, it's easy to feel like the Goldilocks of skincare. In my search, I found some that were too strong and others that weren't strong enough. I also came across a few that required two steps, but I prefer a simpler approach to my routine.
I was recently introduced to Koh Gen Do's Soft Gommage Gel ($48; Dermstore) on a trip to Tokyo. I already had a deep-rooted obsession with its Aqua Foundation ($67; Sephora), so I knew I was in for something good. Koh Gen Do has always had a skincare-first philosophy, even with its makeup. The foundation (which is also a favorite of Kim Kardashian and Oprah) makes your skin look like real skin, so I can only imagine what the Gommage Gel is about to do to my face.
I do most of my cleansing in the shower, so I'm pleasantly surprised when I find out I can use the peel on wet or dry skin. Most peels need to be done on a dry face, which gets time-consuming, especially when you have to remove all your makeup first, then dry your face, do the peel, and wash again. I've tried the Soft Gommage Gel on both wet and dry skin and it does, in fact, work on both.
Here's how it works. Squeeze a quarter-size amount of the clear gel onto your fingertips and spread evenly on your face. Once you've applied an even layer, rub in circular motions. I'm not exaggerating when I say you can literally see your skin peel off your face. In seconds, you'll feel tiny clumps beginning to form and the more you rub, the bigger they get. This is dead skin rolling off your face. Here's what it looks like. Disclaimer: It's kind of gross.
All you do now is rinse off the dead skin and moisturize. I've done it three times this week, and my face feels so soft and it looks so glowy and dewy. And the best part is I can indulge in the super satisfying face-peeling action as much as I want without irritating my skin.
In just a week, I'm realizing why my facialists have been pushing me to try a peel. With all this exfoliating, I've also noticed that my pores are less congested, which makes them look smaller and my skin looks brighter (and not just in skincare talk — it almost looks a shade lighter). Also, because it's so gentle, you can get really close to the eyes and exfoliate without pulling or irritating this sensitive area. I've never exfoliated the skin around my eyes before but it made a huge difference (it's also a cure for those bumps around your eyes called millia). My dark circles look a little lighter, but my eyes just look more awake — I think it's all the stimulation.