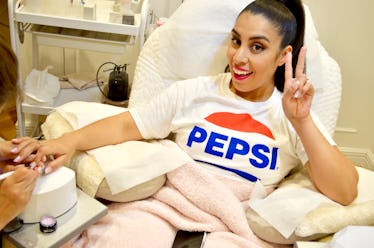 I Flew To Tokyo To Find The Next Big Nail Art Trend & My Manicure Is Worth The Ticket
Stephanie Montes
Just over a few years ago, nail art trends were everything. Everywhere you turned, you would find ombré manicures, colorful patterns, tiny renditions of flowers and evil eyes, and clusters of rhinestones glued onto ring fingers. It was an exciting time in beauty, but the nail art craze has slowed down a bit since then. Fashion girls went back to rocking solid colored manicures, and all my beauty friends began taking a more minimal approach to nail art. Although I follow a ton of nail art accounts on Instagram, it's been a while since I've seen anything that has really excited me. So, on a recent trip to Tokyo with Japanese skincare and makeup brand Koh Gen Do, I made it my mission to find the next nail art trend to get me excited about manicures again.
On the entire flight Tokyo, I brainstormed ideas for my nail art appointment. 11 hours later, I was still completely blank (mostly becuase there was no Wifi on the flight, so I couldn't even Google inspiration). When I arrived at my appointment, I had no idea what I wanted. All I knew was I needed fake tips for length and I wanted something that looked three-dimensional. I had these visions in my head of Harajuku-style nails loaded with cutesy characters. I imagined I'd leave with mini teddy bears, Hello Kitty faces, and rhinestones glued to all my nails.
I stepped into the chicest little Parisian-Inspired nail salon called Riche. To be completely honest, I thought the place was too pretty to give me the over-the-top chunky, kitschy nails I was craving. I figured I should've gone to some back-alley salon with neon lights in the window and a saki bar next door. But the second I sat down and flipped through their in-house designs, I knew I'd leave with something amazing.
After changing my mind four times (and working with a translator to communicate my vision), I finally decided on a look. It was three-dimensional, but not kooky — different, but classy as hell. The final look would be a lavender manicure with 3D sculptures of a cluster of flowers on my ring fingers. Because the flowers would be monochromatic in the same shade of lavender, the manicure would feel classic, but upon closer inspection, you'd find this beautiful work of art.
Once I finally made up my mind, the translator left to help another customer find her look. I didn't even get a chance to ask my technician how in the world she was going to sculpt these flowers out of gel nail polish. I figured I'd just wait and see, so I made myself comfortable and prepared to be in this chair for a really (really) long time.
The cuticle care, nail shaping, application of fake tips, and polish went quickly, but I still didn't have a clue how the technician was about to make these 3D flowers. The hard part is done, I thought to myself, but surely I'm going to be here for at least another hour, maybe more.
That's when she pulled out this green plastic mold with flowers of all sizes embossed right into it. I later discovered this is an invention created by Riche salon. They melt the designs onto a piece of silicone, but they didn't explain exactly how. Then in a completely genius move, the technician fills each flower mold with gel nail polish and sets it under the LED lamp to solidify it. Finally, she plucks each one out of the mold and flips them over. And just like that, my entire itinerary changed — this clutch move shaved off so much time.
All my technician needed to do was glue them onto my nails and finish with a topcoat. She chose to give the look a little extra something by creating a subtle contrast from the other nails. She completed all the others with a shiny topcoat, but mattified my ring finger, and the final effect was nothing short of glorious.
It's been a week now and I still can't stop looking at my nails. I have strangers grabbing at my hands to get a closer look at my nails. It might be a while before I can get these done in a salon in Los Angeles, but there's no doubt they will make their way over eventually. I'll just be over here admiring my Japanese nail art until they do.