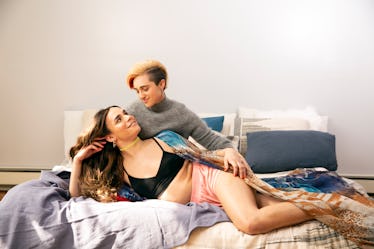 These Are The 3 Best Zodiac Signs To Cuddle With, So Get Cozy
Whether you're super touchy-feely or you just love to be held, sometimes snuggling really hits the spot. If you're a big spoon, small spoon, or some sort of utility silverware that does it all — cuddling can be a great way to relax and feel close to the people around you. Maybe you're a super star snuggler or you could spoon someone in your sleep (honestly, this is a lot harder than it sounds). If so, you may be confident that you're one of the best zodiac signs to cuddle with. And if you're a Taurus, Cancer, or Libra — well, you may be right.
Of course, there's no one way to get your cuddle on. No matter your sign, if you like to hold someone tight, wiggle around loose, or you prefer to come together in some sort of move that's completely your own — snuggling can be whatever feels good to you and the people you're snuggling. When it comes to any kind of physical contact, all that matters is consent. And if you and your boo are on the same page — cuddle, snuggle, soon, or entangle the night away.
These are the three best signs to cuddle with.