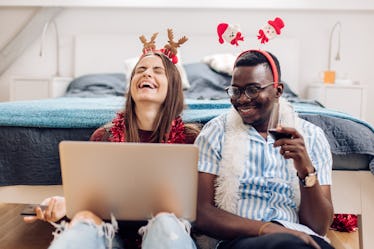 These Holiday-Inspired Airbnb Online Experiences Belong On Your Xmas Wishlist
RgStudio/E+/Getty Images
Staying at home for the holidays just got a little more fun. While your typical holiday fanfare may include your entire family coming over for dinner and catching up with friends who are back in town, the ongoing coronavirus pandemic has changed many life events and holidays this year. Thankfully, these Airbnb holiday 2020 online experiences will make sure you have the most wonderful time this season.
The Centers for Disease Control and Prevention (CDC) has been encouraging people to celebrate the holidays with those they've been quarantining with. That might mean this will be your first Christmas away from home, but thanks to virtual events, you can still make it spectacular. In between your virtual movie nights and family Zoom calls, you can book some Airbnb holiday experiences, because 'tis the season.
From holiday dinner party lessons to a spiced wine tasting, you're sure to find an experience you'll truly enjoy. If you're unsure of what to gift your loved ones this year, an Airbnb experience might actually be the perfect idea. Even though it's virtual, you can make memories to cherish forever. The best part is, since you'll be cozy at home, you don't even have to change out of your holiday PJs.