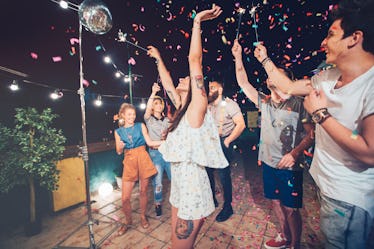 These 9 Elaborate Proposal Stories Really Have A Ring To Them
When it comes to wedding planning, some couples choose to go big. Like, 500-people-open-bar big. Of course, some couples go all out for every milestone before, after, and during their walk down the aisle. If you're super into anniversaries, love a good rom-com, or can't wait for your dream wedding day, these elaborate proposal stories may totally take the wedding cake. From family filled surprise parties to lavish trips, there is no shortage of elaborate ways to pop the question.
Of course, like anything in life, there is no wrong or right way to propose. If you're super low-key, or hate public attention, a big proposal may not feel super comfortable. Keeping your engagement between you and your boo can be a super sweet and romantic way to make steps towards your future. If you love to spend time with friends and family, and want your community to be involved in every aspect of your life — a public proposal may be a wonderful way to integrate the people you love in your life with the love of your life.
No matter the shape or size, proposals are super special. Here are nine elaborate proposals that really have a ring to them.