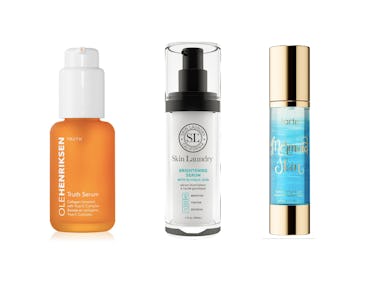 These 8 Serums From Sephora Are All Under $50 & Will Fit All Your Skincare Needs
OleHenriksen // Skin Laundry // Tarte
I like to consider serums as "the elixir of life" for your skin, because their anti-aging, hydrating, and brightening benefits are some of the most potent and powerful among your skincare lineup. Those who are just beginning to build up their skincare regimen should know that one serum does not fit all, and that these eight serums from Sephora under $50 all target various skincare concerns.
Try not to confuse serum as your toner or moisturizer replacement. Serums are incredibly powerful, and oftentimes, they contain ingredients that are much stronger than your daily moisturizer or toner. (Of course, this depends on which serum you choose.) Since serums are packed with antioxidants, hydrators, acids, and much, much more, it's no wonder that they usually have a pretty hefty price tag.
Although they might use up your entire Sephora gift card after purchasing, serums are usually the number one product derms recommend you spend your hard-earned cash on, because they typically offer great results. When using a serum, apply right after your toner (or cleanser, if you're not using a toner) and let it soak into your skin before adding your moisturizer right after. Below, you'll find some of the best serums from Sephora for under $50 (a steal, if you ask me!), each categorized into different skin concerns.
Brightening
Ole Henriksen Truth Serum ($48 for 1 oz., sephora.com)
The Ole Henriksen Truth Serum is not only one of the brand's top sellers, but it's also one of Sephora's bestsellers, too. The formula combines vitamin C and collagen to brighten the skin and provide extra hydration.
Skin Laundry Brightening Serum with Glycolic Acid ($50, sephora.com)
Using the power of glycolic acid, this serum helps to make dark spots disappear while promoting an even texture to your skin. Use at night and wake up with a nice glow!
Anti-Acne
Dermadoctor Ain't Misbehavin' Medicated Acne Control Serum ($48, sephora.com)
This serum uses 2 percent salicylic acid to help control, treat, and prevent acne. I love this clarifying treatment because, not only does it help diminish acne, but it also helps to mattify the skin before applying any moisturizer or foundation afterward.
Caudalie Vinopure Natural Salicylic Acid Pore Minimizing Serum ($49, sephora.com)
Formulated with 100 percent natural salicylic acid (derived from wintergreen), the Pore Minimizing Serum will make your blackheads disappear and your youthful glow visible. Safe for sensitive skin, the serum contains antioxidant grape seed polyphenols to protect, while rosewater works to hydrate the skin.
Anti-Redness
First Aid Beauty Anti-Redness Serum ($36, sephora.com)
Best known as the brand for super sensitive skin, First Aid Beauty nails it with its Anti-Redness Serum. It contains colloidal sulfur to reduce redness, while aloe calms and reduces flare-ups. Not only does it help with skin's redness, but it also contains antioxidants to fight against free radical damage.
Hydration
Tarte Mermaid Skin Hyaluronic H2O Serum ($42, sephora.com)
If it were up to me, I would suggest that everyone be using a hydrating serum — especially during these colder months! This lightweight serum contains hyaluronic acid (a moisture must-have!), as well as vitamin B5 to soothe and marine extracts to reduce the appearance of fine lines and wrinkles.
Kiehl's Midnight Recovery Concentrate ($47 for 1 ounce, sephora.com)
One of Sephora's bestsellers, the Kiehl's Midnight Recovery Concentrate contains lavender, evening primrose, and squalane oil for an extra dose of moisturization right before bed. The lovely smell might help put you to sleep, too!
Fresh Rose Deep Hydration Face Serum ($48, sephora.com)
The Fresh Rose Serum will breathe life into your complexion. Packed with soothing rose ingredients plus hyaluronic acid, this serum will keep your skin hydrated all day long.