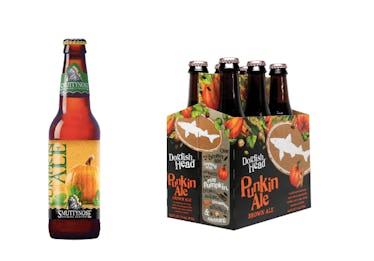 These Pumpkin-Flavored Beers Are Basically Like Having A PSL During Happy Hour
I'm excited to say that autumn is officially just around the corner on Sept. 22. The leaves are starting to change colors, and the weather is a bit cooler. Most importantly, after too many months of waiting, pumpkin-flavored beer is finally hitting store shelves. Although pumpkin beer sounds like dessert in a bottle, not all of them are like the saccharine pies at the Thanksgiving table. In fact, most pumpkin beers have a pleasantly subtle flavor that pairs perfectly with dinner or happy hour. Trust me on this: you should definitely give these eight pumpkin-flavored beers a shot this fall. I know I will.
This might be a little bit hard to believe, but beer has actually been brewed from pumpkins since the early European settlers first came over to New England, according to Smuttynose's website. Brewers were desperately seeking to extend their supply of expensive imported malt with less expensive ingredients they could grow locally, and two of the most commonly used resources they brewed with were squash and pumpkins. It's true, and brewers are still all about it to this day. Aside from the fact that brewing with pumpkin may or may not cost less, it tastes absolutely amazing, and it will totally make your autumn extra special.