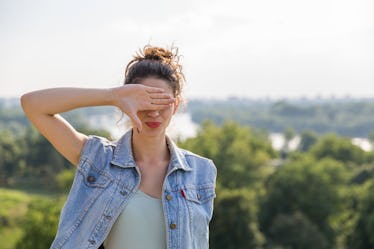 These 6 Little Things Can Cause Low Self-Esteem, But Here's How To Make Sure They Don't
Self-esteem can sometimes be hard to come by. Sure, in a perfect world, that wouldn't be the case, and you'd wake up every day feeling like a million bucks. But the reality is, there are good self-esteem days and bad self-esteem days, and feeling confident and comfortable with yourself is usually something you have to continuously work toward and maintain, which includes avoiding those little things that can cause low self-esteem in your day-to-day and exacerbate those feelings of being less-than or not-enough. Those feelings are false, BTW. They may be loud, insistent, and persuasive, but I can assure you, they are not true..
As Seline Shenoy, a podcast host, life coach, and author of the book Beauty Redefined, tells Elite Daily, pretty much everyone asks themselves, at one point or another, "Am I good enough?"
"We may have allowed the weight of low-self esteem to influence how we judge ourselves and others and the choices that we make in life," Shenoy says. "This insidious feeling of inadequacy diminishes our confidence in our ability to make headway in our careers, relationships, and other endeavors that are close to the heart."
And while low self-esteem can keep you from living your #bestlife, Shenoy promises that when you begin to shift some of these nasty habits, life can get better in ways you never imagined. And, rest assured, overcoming these six little things isn't nearly as hard as you think it is. Here's how to navigate those subtle, everyday things that are trying to tear down your self-esteem.